Gardens always look so much more beautiful and better in pictures on social media, and you can do that too. One of the trendy gardening ideas recently is landscape layering, and it looks so nice. So landscape layering is when you layer different types of plants together to create an amazing contrast among them. There is no limit to the type of flowers or plants, and that is the beauty of it. You will find 8 different ways for landscape layering; maybe you will like a few among them, so take a look.
#1. Bush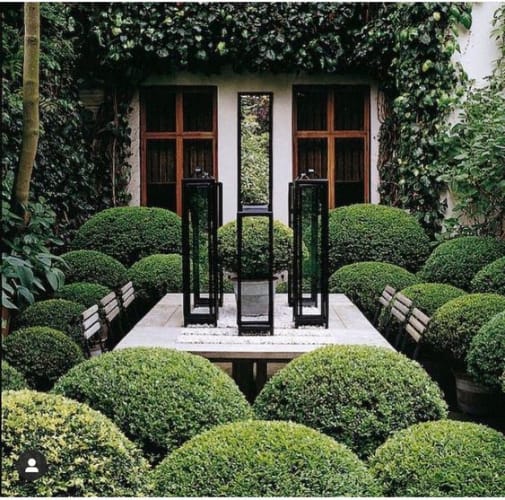 When it comes to neat and well-organized landscape layering, nothing can go wrong with layers of pretty bush. Round ones are so popular, and you can align them any way you like which is so nice to have. Another great thing to have is that there are also different colors that you can go for. I have seen orange, red, purple, white, yellow, and more, and all of them look absolutely gorgeous. Depending on your preferences and the style of your space, there are many options to go for.
One of the most important things to know about having bushes as a landscape layering is maintenance. You want to prune or trim it regularly to maintain its shape so that it will always look great. Not to mention that some of them even have some bright flowers; the beauty will always be there. With proper maintenance, they will surely stay pretty in your garden or lawn for years to come.
#2. Evergreen Shrubs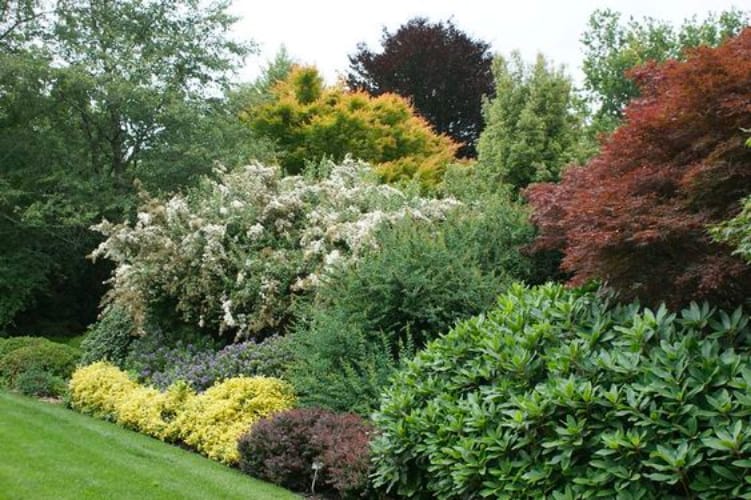 Sometimes people don't want to go big, and that's okay. One of the best landscape layering ideas that you can try is by growing evergreen shrubs. These shrubs are bright green all year long, and they look absolutely gorgeous in any space. Along with that, they are the perfect choice to go for when you don't have any fences around the property. Evergreen shrubs simply act as fences or hedges (depending on their height), and your privacy screens. They both look great while keeping your neighbors or other people from seeing the inside; so nice to have.
What I like the most about evergreen shrubs is that there is quite a number of options to choose from. The choices are big, small, short, tall, bulky, and many more, and the decisions are all yours. There are even shrubs with berries or flowers that can add even more beauty and visuals to your space. This is the reason why evergreen shrubs have been so popular for years and still counting. Even maintenance is not too complicated and difficult; this could be the landscape layering idea that you like.
#3. Flowers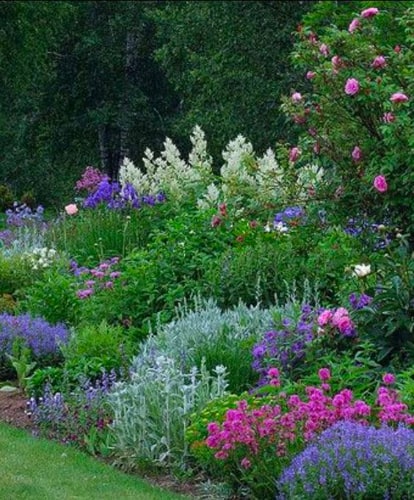 Easy and simple, flowers are one of best easiest landscape layering ideas to have in mind. You can either plant them in the ground or in the pots, and they will look so pretty to you. The best part is that you can always change the positions to align them in different colors if they are in pots. Flowers are also a great idea for those who don't like landscape layering that is too shrubby and tall. You can easily select the flowers of your favorite colors, sizes, and more. Since flowers are also easy to care for and grow, anyone can actually do that.
The only recommendation that I have is to add some more grasses to make the flowers stand out. Ornamental flowers and ornamental grasses look so good together, and the grasses as the background simply make the flowers pop. The beauty will shine and show when the flowers begin to bloom; the green contrast makes everything so much better.
#4. Groundcovers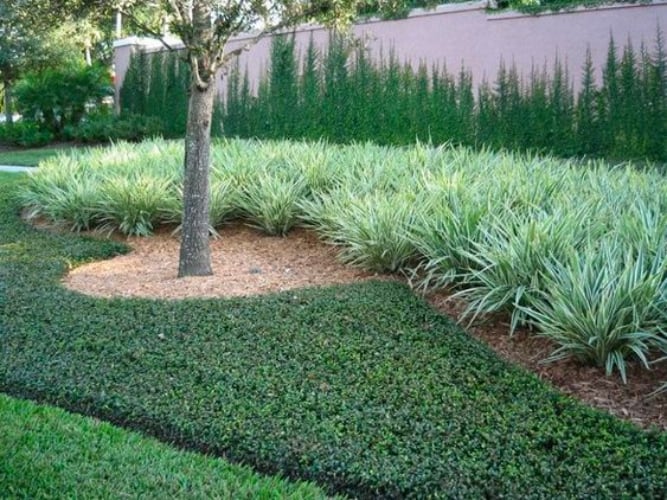 So what are groundcovers? Just like the name suggests, groundcovers are the plants that cover the ground. Instead of growing above the ground like other plants and trees, they stay on the ground. This is just another nice way to decorate your ground with more colorful plants instead of regular green grass. There are many great things about groundcovers, and one of those is that they are fast-growing. With them, you are able to transform your lawn or yard into a whole new space. The combination of vibrant colors, shapes, and textures elevates your garden with great beauty.
Another benefit that groundcovers provide is that they help eliminate weeds from your lawn. So on top of a beautiful garden, you will not have to worry about annoying weeds which is a total plus. More than that, groundcovers also keep your soil cool and shady since they shield it from the sunlight. This also allows you to add other plants that require cool soil to grow. If you are not the type who likes tall plants and trees, you should definitely consider groundcovers.
#5. Hedges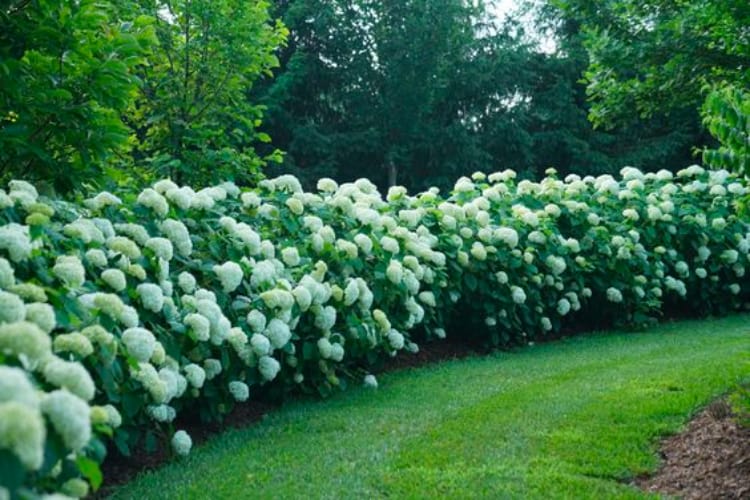 The first thing that comes to people's minds with the mention of hedges is grass, but there's more. You can also create hedges using flowers, and there are so many different types of them. The good thing about flowers is that you won't have to prune or trim them to perfection every time. You can just like them grow at their own pace, having blooms that pop out here and there. I guarantee they look so magnificent, and things are even better if they also smell amazing. Since there are plenty of flowers that you can grow hedges, choosing one won't be too difficult.
#6. Ornamental Trees
One of the easiest and most wonderful ways to do landscape layering is to add ornamental trees to the space. You can have any tree of your choice, and the final results always look so great. The special thing about ornamental trees is that there is no limit to their colors and sizes. The decisions are all yours to make, allowing you to create a gorgeous layering with your own taste. From bright and dark to short and tall, there are so many options that you can go for. Not to mention that they all will end up looking really nice in your backyard or garden; you will love it.
What you should know about ornamental trees as landscape layering is the location that you select to plant them. Make sure to align the trees nicely based on their colors, heights, sizes, and more. That way, they will look neat and organized while complementing your space at the same time. I highly recommend using various trees of different appearances so that there is a bit of everything on your property.
Another thing to have in mind is that you should be able to take care of them. Planting too many trees without having time to maintain them will not give you a good and satisfying result. So don't forget to clean up the ground and prune them if your trees need pruning. Apart from that, you are good to go since ornamental tree layering is so easy to achieve.
#7. Perennial Shrubs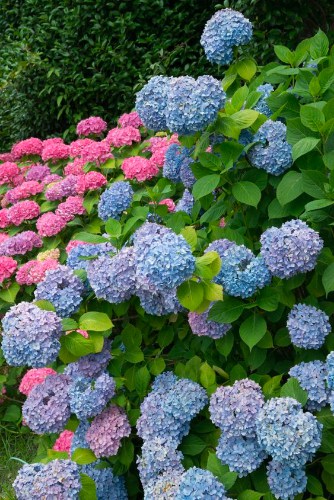 For those who like something more colorful and vibrant, then go for perennial shrubs instead. The awesome thing about them is that they are flowering shrubs that look so stunning. Their bright flowers stand out really well, and they pop in the background very nicely. You can layer them with your evergreen shrubs and many types of other shrubs easily as well. What's so great about perennial shrubs is that they look great as either accent or background. The flowering ones are so easy to grow, so beginning gardeners can also add landscape layers by themselves.
When it comes to the options of perennial shrubs that you can select from, the answer is "endless". The only thing to have in mind is whether or not you have the space to plant the ones that you like. So many pretty shrubs and numerous of them smell amazing too which is a total plus. Imagine the combination of various beautiful colors of your favorite and choice; the final result is absolutely breathtaking. Not to mention that they are also easy to care for, you will not regret having them.
#8. Vines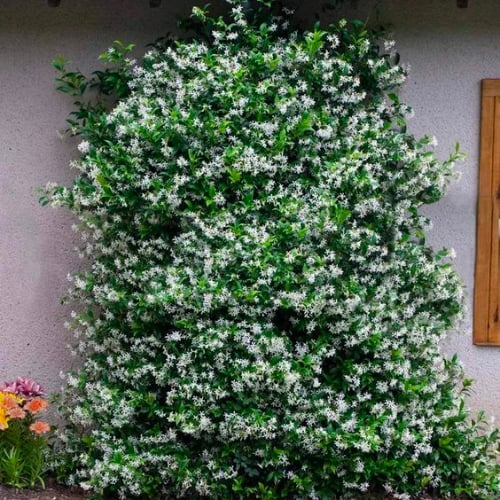 Not everyone thinks about vines when it comes to landscape layering, but they look so natural. Think about the green vines with white flowers that hang down from the buildings or trees. That is the type of vine that you should go for, and it is so stunning to have. You can also try climbing vines that climb up fences or stay in flower beds. Depending on the location of your landscape, the vine options also vary as well.
8 Beautiful Flowering Shrubs For Hedges
In case you are interested in having flowers as hedges for your landscape layering, there are some pretty ones. From bright to dark colors, they are available in them all for you to choose from. I would like to recommend 8 of them, so feel free to check them out below.
Bridalwreath Spirea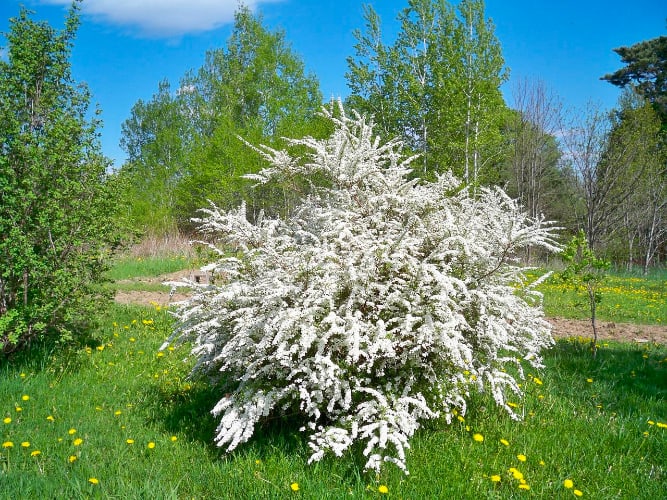 This is a medium-sized shrub that grows in an upright arching habit, with thick blooms of white flowers. The awesome thing about them is that they are easy to grow and maintain, and they look gorgeous in the blooming season. When that time comes, the white flowers of Bridalwreath Spirea create a beautiful line from the top to the bottom branches. Apart from landscape layering, you can have them as hedges around the garden or lawn as well. They also attract butterflies, making your garden even more lively and natural which is a total plus.
Camellia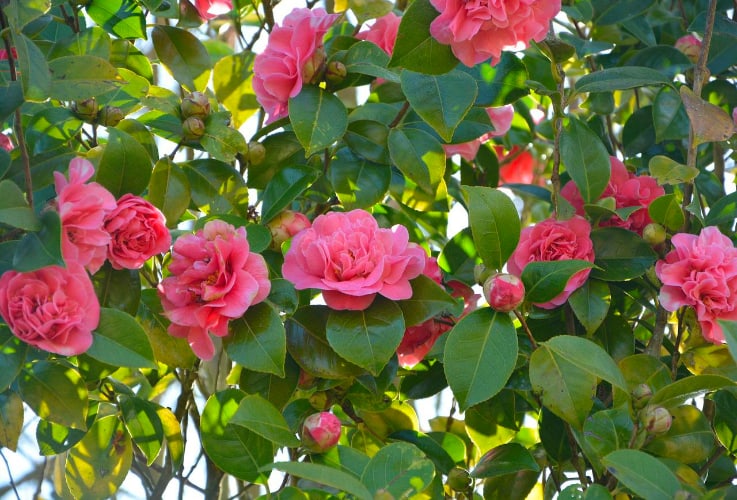 When it comes to beautiful flowers and evergreen shrubs, Camellia is definitely a winner. It has stunning blooms that last for months from fall to spring, complementing your garden with pure beauty. Another great thing about them is that there are so many species of Camellia that you can choose from. Each of them is beautiful and colorful, and they make an amazing landscape layering in pretty much any space. Don't believe the myth when you hear that Camellia is difficult to grow because that is not true. Just pick the right species for your location and weather conditions, and they will bloom at their best for you.
China Pink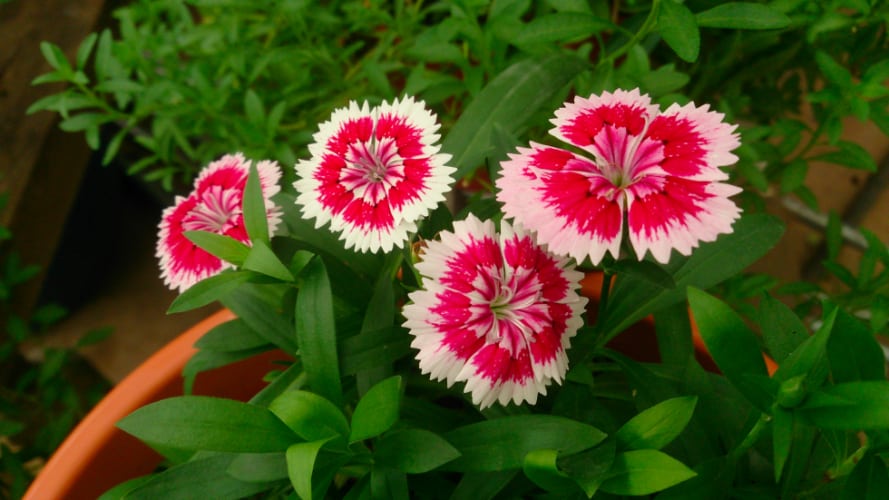 In case you want some nice flowers for lining edges or for your garden, consider China Pink. These gorgeous flowers can grow up to 8 to 12 inches, and flowering begins from April to October. China Pink has a combination of pink and white that contrasts each other perfectly. And having them as a part of landscape layering will be the greatest decision to ever make. Even caring and maintenance are not necessary because these flowers are carefree. All they need are some regular cutting of the wilted flowers and watering, simple as that.
Landscape Roses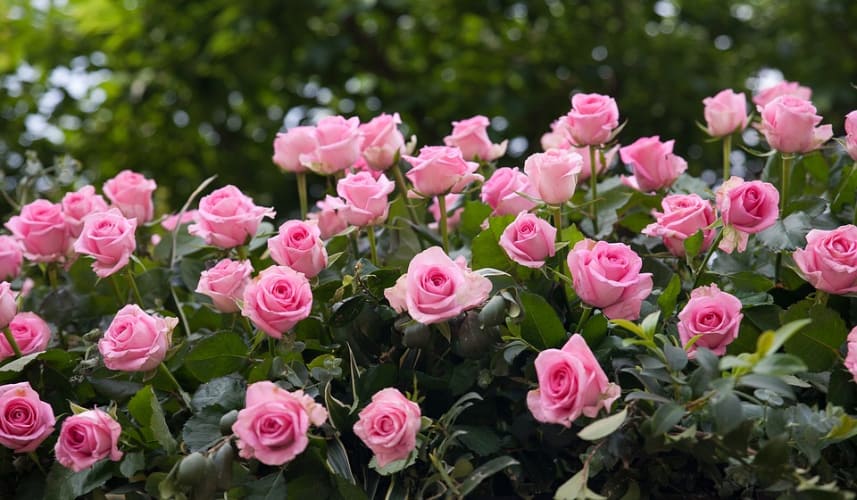 We all know rose lovers out there, and landscape roses are what you should have in mind with landscape layering. The special thing about them is that there are new varieties every year, and the options are plenty. You can choose the bright ones, colorful ones, shrubby ones, and many more for your garden or yard. Some of the prettiest landscape roses are At Last Rose, Olivia Rose Austin, New Dawn Rose, or White Iceberg Rose. You can also go for Flower Carpet White Rose or Strike It Rich Rose if you like something brighter. The decision is all yours; feel free to look for more.
Lilac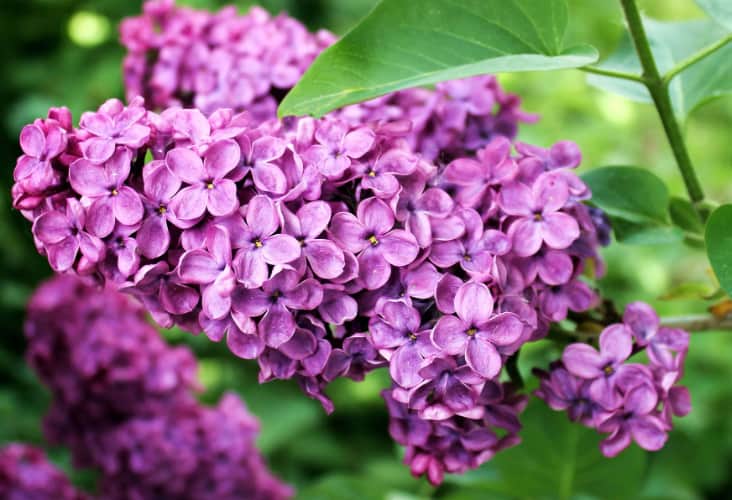 Lilac bushes are beautiful deciduous shrubs that display their beauty when spring comes. Many people love having lilac in gardens due to the stunning clusters of blooms that these flowers offer. On top of that, many varieties of lilac have sweet fragrances that enhance the atmosphere with soothing moods. You can have lilac bushes are landscape layering or ornamental flowers, and they look incredible either way.
Limelight Hydrangea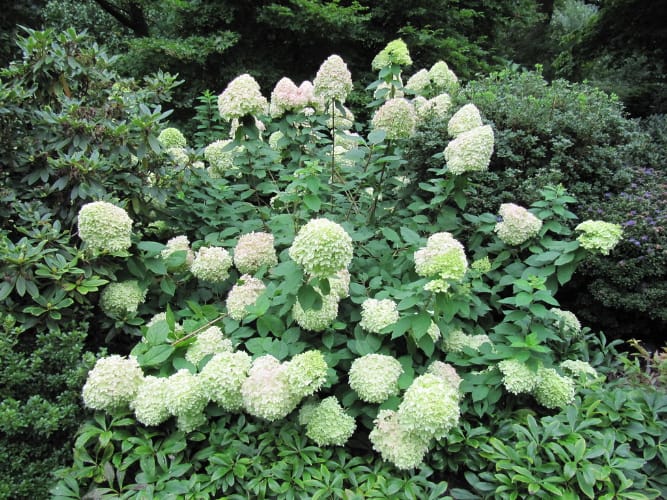 Both attractive and bright, Limelight Hydrangea is one of the most beautiful flowering shrubs to have for landscape layering. This one is also different and unique due to its color since many species are blue, pink, or purple. Its flowers are pale-lime color, with huge clusters that stand out very nicely in the garden or lawn. Not to mention that it is easy to care for; growing them is just so convenient and easy.
Smooth Hydrangea
For deciduous shrub lovers, this is the type of flowering shrub that will capture your heart. The creamy-white flower clusters and large blooms are the perfect combinations to have in a garden, lawn, or yard. More than that, Smooth Hydrangea blooms from early summer to fall which lasts for months. This kind of beauty that looks absolutely gorgeous for this long? No doubt why many people love to grow Smooth Hydrangea on their properties.
Sonic Bloom Pink Weigela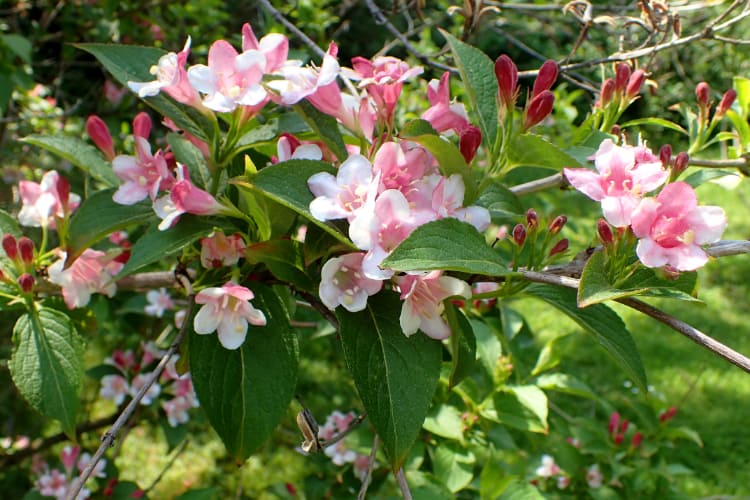 Pink blooms are clearly eye-catching, and this is among the reasons why Sonic Bloom Pink Weigela are great as flowering shrubs. The tiny pink flowers grow so close to each other, showing off their beauty for months. Having them as a hedge is a smart idea because their mature height and width are both 5 feet. Maintenance is easy and simple, and their beautiful blooms attract pollinators which is a total plus. No matter if it is a garden or landscape, these stunning Sonic Bloom Pink Weigela is ideal for them all.
8 Low Maintenance Groundcovers You Might Like
We have previously discussed groundcovers, and I would like to dive a little deeper into that. Not a lot of people find groundcovers interesting since they are not so common among landscape layering ideas. This is why I want to give you some more insight into some of the pretty groundcovers that you can consider.
Candytuft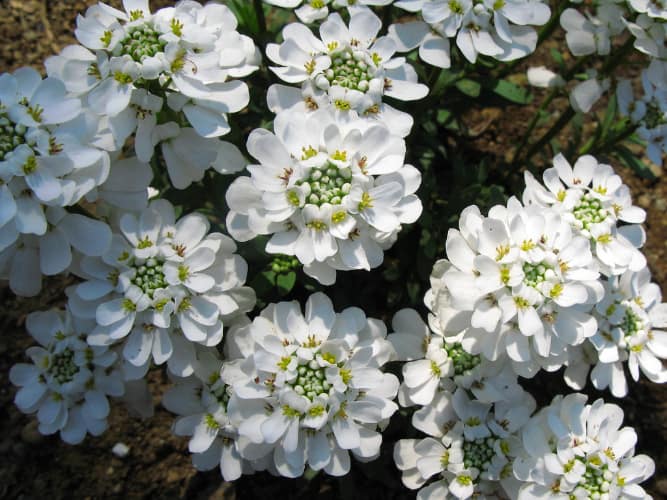 An interesting name with exceptional beauty, Candytuft is an evergreen ground cover that can grow up to 12 inches tall. You can grow them in full sun, and they will give you the best flowering possible. It produces dense white flowers twice a year, and it looks so graceful. There are many species of Candytuft, and all of them are easy to care for since they are low maintenance. You can grow them as a ground cover or a low-lying shrub, in a container, and more.
Creeping Phlox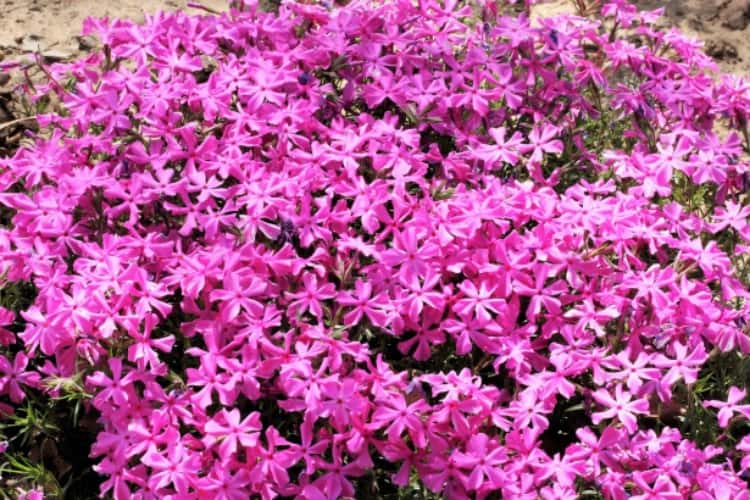 A carpet of Creeping Phlox in your garden is one of the most flawless landscape layering ideas to consider. This popular evergreen ground cover perennial comes with various flower colors such as magenta, pink, purple-blue, white, and more. Those flowers bloom in mid to late spring, and the colors are absolutely breathtaking to look at. You can grow them in full sun, medium moisture, and well-drained soils, and they look gorgeous all year round.
Creeping Thyme
Creeping Thyme is one of the best groundcovers that will adorn your landscape with beauty and fragrance all year round. Even if this species is not an sherb, they still have their pleasant scent while their flowers are so lovely. When crushed or stepped on, their aroma begins to spread which is so calming. You can grow them as groundcovers, among pavers or stepping stones, and pretty much anywhere. Their height is 3 inches at most, making them so easy to grow and take care of. Plus, with their many benefits for various uses, growing them will be an incredible decision to make.
Hens & Chicks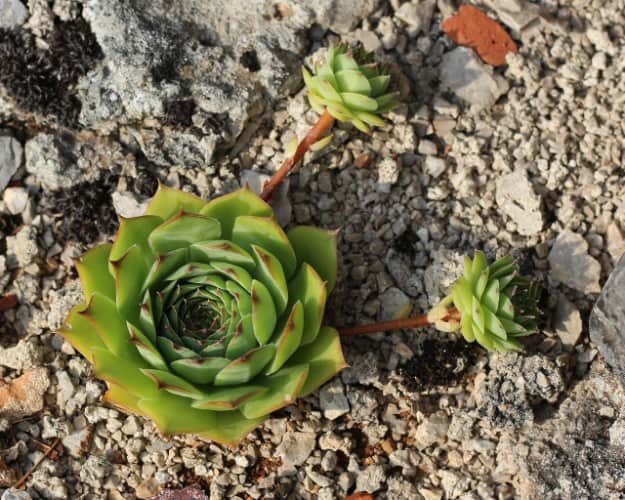 It does not always have to be flowers or shrubs because succulents make great groundcovers too. Hens & Chicks are the best examples of that, and you can grow them both indoors and outdoors. On top of that, these succulents also thrive in both cool and hot weather, making them perfect for anywhere. What's so special about Hens & Chicks is that they can produce numerous small babies in your garden or yard. A combination of big and small mother and baby succulents will totally enhance the beauty of your space. Plus, with the fact that they are hardy and low maintenance, you will surely love them.
Irish Moss
Looks like moss but is actually a prostrate herbaceous evergreen perennial; Irish Moss has an admirable beauty to look at. Their unique growing habits allow them to form a compact carpet of emerald-green foliage on the ground. The green color is one thing, but the tiny star-shaped flowers are another thing that makes it stand out. They look so good together, and having them as a landscape layering is extremely graceful to look at. You can also grow them around stepping stones, between flagstones, and pretty much anywhere.
Sweet Asylum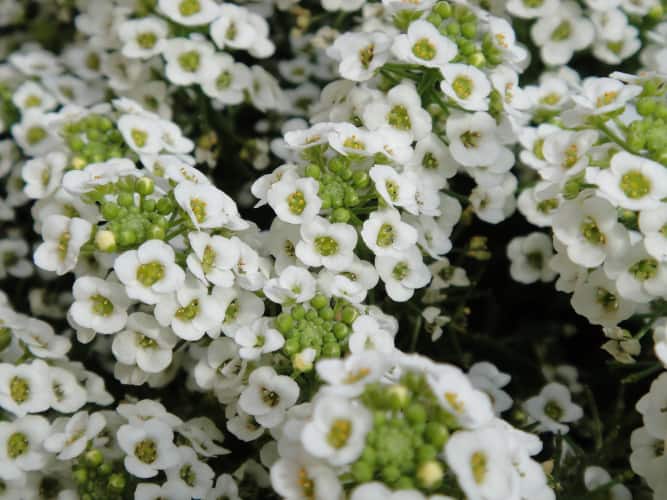 Beauty is great, but having a beautiful fragrance is another factor that makes Sweet Asylum great for gardens and lawns. You can grow them in various areas including borders, hanging baskets, dry zones, planters, and more. As groundcovers, they can grow up to 6 inches tall while their clumps of tiny flowers pop with beauty and grace. More than that, the blooms of Sweet Asylum come in different colors like pink, purple, salmon, white, and yellow. You will see their clusters of flowers from June to October, and they make an amazing accent to any spot.
Turkish Speedwell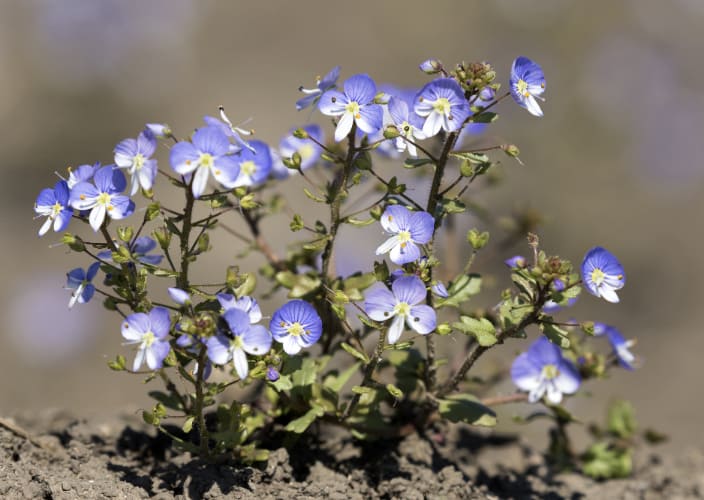 Nothing can top blue or bluish-purple when it comes to flowers, and these groundcovers offer just that. What I like the most about Turkish Speedwell is that their green leaves stay as an outline of the flowers. The leaves simply adorn the flowers in the middle, making them pop with mesmerizing beauty. These flowers are perfect groundcovers, and you can also grow them in gaps of stepping stones. When late spring approaches, those flowers start to bloom and your garden will surely look marvelous.
Variegated Bishop's Weed
Also goes by the name Ground Elder, Variegated Bishop's Weed is among the best groundcovers to have in mind. The unique thing about it, as you can already tell, is that they are in the form of leaves. However, they look absolutely fabulous due to the bold and bright colors that they come with. Another awesome thing is that they do have flowers, abundant of them. When late spring comes, blue flowers will start blooming and you will totally love how they turn out.
Conclusion
Landscape layering is a great idea to level up the beauty of your garden, lawn, or yard. With so many ideas and recommendations above, I hope that you will find at least one suitable option. The good thing about landscape layering is that it allows you to select things to your preferences. From colors to sizes, shapes, and more, the options are limitless. Let's see if the suggestions have today have what it takes to be your next landscape layering.