One of the common ways to maintain privacy at home without being too obvious is using narrow trees. These tall skinny trees consume less space while blocking views from the outside and vice versa very well for you. In case you are looking for some nice narrow trees for your garden or home, you are at the right place. I am going to introduce you to 14 of the best tall skinny trees for privacy and decoration purposes today. Let's take a look and see which one is the best option for your property.
#1 – Blue Arrow Juniper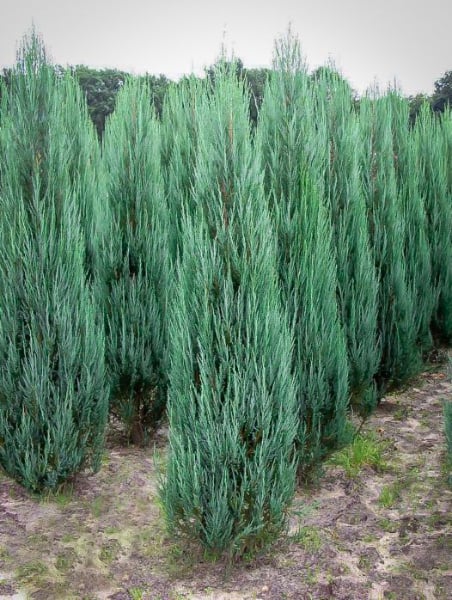 With a height of 12 feet and a spread of 4 feet, Blue Arrow Junipers are just perfect as privacy screens. What makes this tree super popular is that it is extremely narrow and upright, and its evergreen growth is so pretty. More than that, it has showy powdery blue foliage and blue berries that look absolutely gorgeous on your property. Plus, with the scale-like leaves, they complement your garden and home with great beauty all year round.
Blue Arrow Junipers are adaptable to dry soils, and they need full sun to aid with their bright color. At the same time, they are also adaptable to both dry and moist growing conditions which is a total plus. Another awesome thing about them is that their blue foliage remains blue throughout the winter. These trees also produce blue berries from late spring to winter, which is super nice. They are so popular for various purposes since you can use them as accents, hedges, screening, and more.
#2 – Brodie Eastern Red Cedar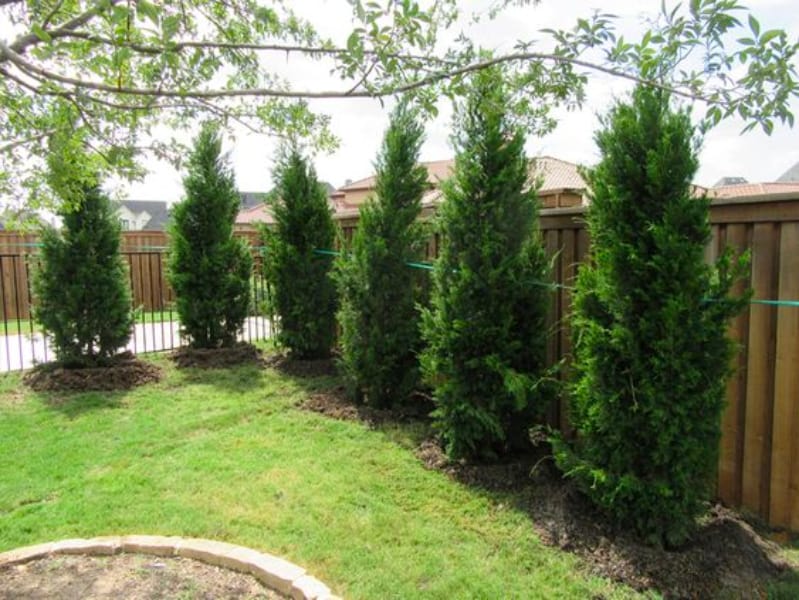 Brodie Eastern Red Cedar, aka Brodie Juniper, is one of the tall skinny trees for privacy that are so popular. This tree has a narrow pyramidal growth habit, making it a nice tree for both gardens and homes. The special thing about this tree is that its mature width is 12′, which is a perfect size for a smaller space. This is among the reasons why they are ideal for purposes such as privacy screens in small landscapes. Brodie Juniper can handle a wide variety of soil conditions so growing them is also quite easy. More than that, it is also very hardy because it is disease-resistant and extremely drought tolerant. Plus, with the tolerance of windy conditions, this tree is so tough no matter what the conditions are.
A Brodie Juniper has naturally dense canopies with smooth and dark green foliage that look amazing. On top of that, this tree has canopy uniformity that results in various shapes and sizes. Not to mention that they also produce plenty of dark blue berries in fall; this one is just incredible to have. With both the appearance and easy maintenance, Brodie Junipers are great alternatives to Italian Cypress and Leland Cypress. They look familiar, and their all-year-round rich green foliage is so pretty.
#3 – Colorado Blue Spruce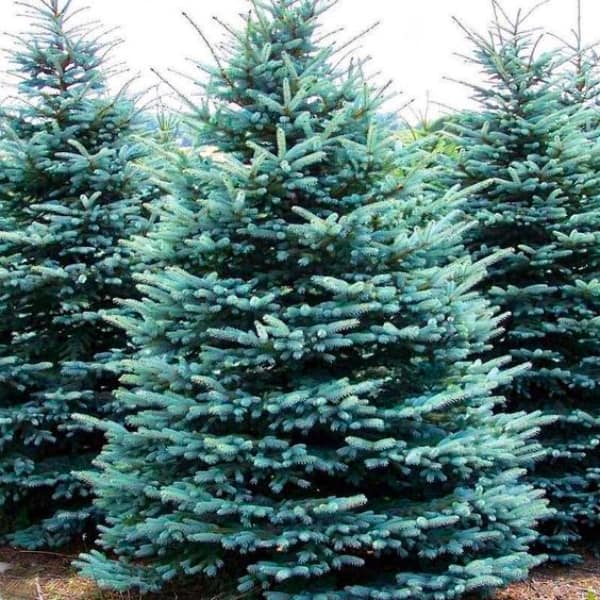 Possesses both beauty and strength, Colorado Blue Spruce is the type of tree that you will find interesting. It provides both privacy and windbreak that maximizes the amount of wind blowing into your property. To achieve that, you should plant them in a row and the result will be so satisfying. The mature spread of this tree species is between 10′ to 20′, which appears a little large to some. However, it is perfect for windy areas. Besides being adaptable and wind-resistant, Colorado Blue Spruce is also deer-resistant. Damage is not an issue that you should worry about at all, meaning maintenance is also easy.
When it comes to beautiful trees with gorgeous foliage, Colorado Blue Spruce has to be on the list. It has silvery blue-green foliage while its shape resembles a Christmas tree that adorns any space you grow it. Speaking of grow, its soil options include acidic, clay, drought, loamy, moist, rich, sandy, well-drained, and wet. What is so special about this tree is that its silvery blue-green color remains all year, looking absolutely attractive. You really should consider this beauty because it has so much to offer.
#4 – Dwarf Alberta Spruce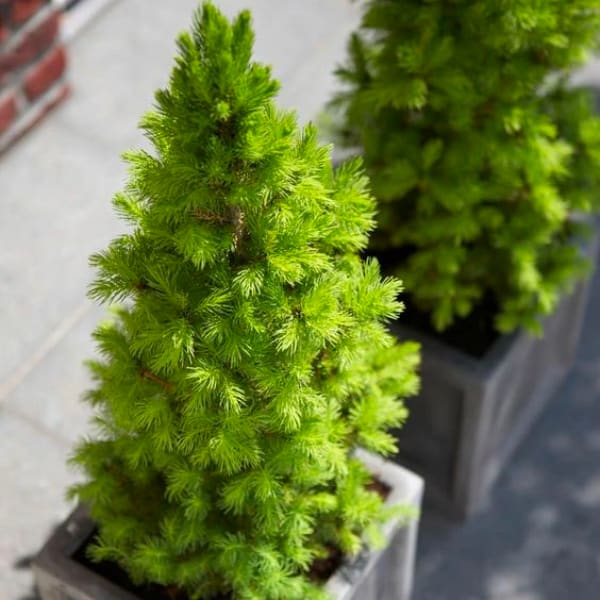 In case you have some more space, then maybe a Dwarf Alberta Spruce has what it takes to match your preferences. It is an evergreen conifer with a classic pyramidal Christmas tree shape that looks absolutely gorgeous to have. Despite being a little wide, it still does not take up too much space in the garden at all. As for the height, it grows just as perfect to be your privacy screen. It rarely exceeds 13 feet, and it is simply ideal to have for small gardens and tight space out there.
More than that, Dwarf Alberta Spruce grows well in cold winters, and cool summers, so cold weather conditions are fine. However, these trees grow best in full sun and well-drained acidic soil, which is quite common in most areas. The important thing you should know about this tree is that it grows very slowly. Its growth rate is only around 2 to 4 inches per year, but it looks amazing after it is fully grown. However, it is very easy to care for since pruning is not necessary at all. You can either grow them from seed or buy the trees, depending on how fast you want them to grow.
#5 – Emerald Green Arborvitae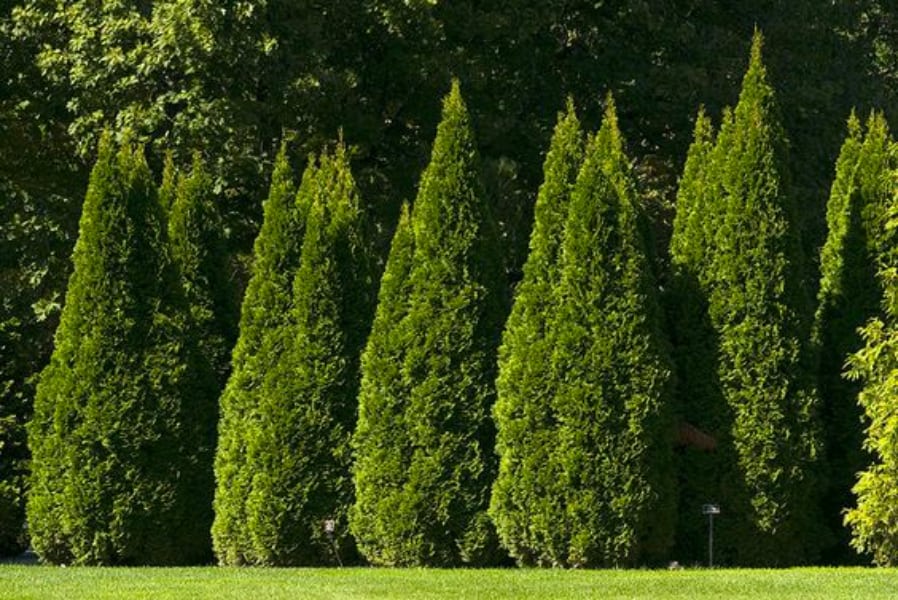 One of the most important things about tall skinny trees for privacy is that they should be hardy and strong. This is why Emerald Green Arborvitae is one of the options that you should go for. These trees are so resilient they can handle not only drought but also extreme temperatures and diseases and insects. This simply makes these adaptable trees long-lasting to have and take care of for years to come. Plus, with their good-looking beauty, they are perfect choices for various purposes like accent adding, foundation, privacy screens, and more.
The great thing about this narrow tree is that it has glossy-green evergreens that look absolutely stunning. Emerald Green Arborvitae grows quickly, and they maintain both their color and shape all year round, which is nice. Another important part is that these beautiful trees are not too big; they are perfect for narrow spaces. They add more accents and taste to your garden and home without taking up too much space. Not to mention the lifespan of 25 years, these trees are just awesome to have.
#6 – Italian Cypress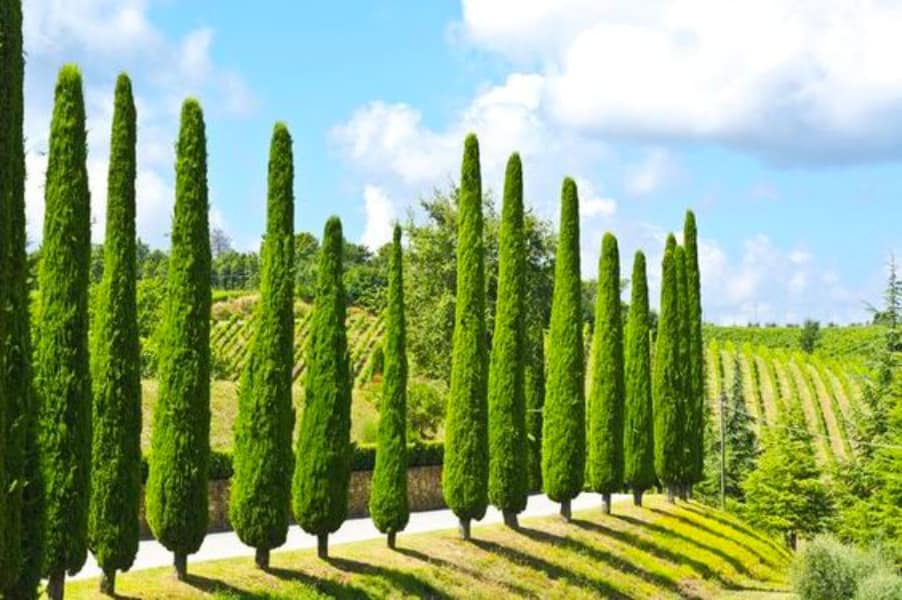 You can make a list of the best tall skinny trees for privacy without Italian Cypress. Its unique appearance says it all, so slender and tall which is just perfect to have in any home setting. By the look, you can tell that they do not take up too much space at all. Even better, they enhance the beauty of your garden and home to a whole new level of class. They do make not only amazing privacy trees but also a perfect accent on your garden or property. The special thing about Italian Cypress is that they look absolutely elegant and pretty. Each tree grows up to 70 feet or taller when they mature, and they look so neat next to one another.
Besides being so good-looking, is Italian Cypress is also a very hardy and tough tree. These trees are deer-resistant, and they can tolerate drought very well, so frequent watering is not necessary at all. But, that's not all, Italian Cypress can adapt to most soil while being heat-tolerant at the same time. They have both the appearance and the strength, and you will surely love having them. As one of the best ornamental trees, having them in your garden or around the house is a great decision.
#7 – Kindred Spirit Oak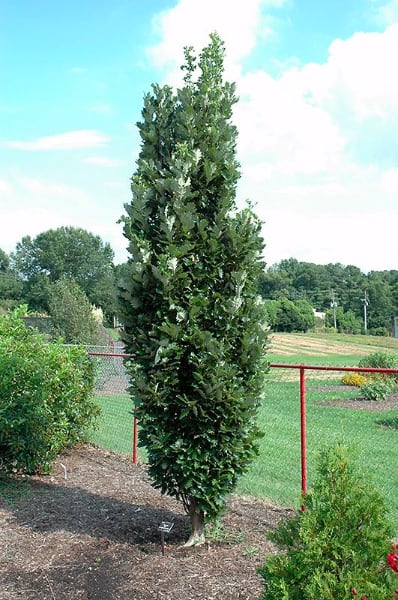 Here we have an oak hybrid that has a strong central leader and a narrow upright with a columnar growth habit. It can grow up to 35 feet tall, but it does not take up too much space at all. This makes this dense deciduous tree a great option for small gardens out there. Apart from the space-saving shape, Kindred Spirit Oak also adds a great accent to your landscape. It looks great in a line, making it an amazing privacy tree to grow as well.
In case you want to attract some small animals like birds and squirrels to your garden, this is the right tree. These trees can surely do that, making your property even more natural and tranquil for both you and the wildlife. Kindred Spirit Oak is a very durable and hardy tree, and it is highly resistant to mildew. Not to mention that it grows fast; having them is just awesome. Although it looks best without pruning, Kindred Spirit Oak still requires occasional maintenance and upkeep. They grow well in both dry and moist locations, and you should definitely consider them.
#8 – Lombardy Poplar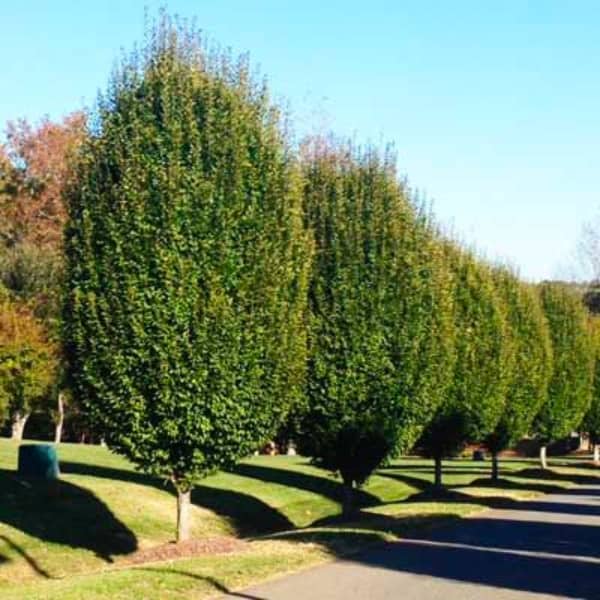 For those who like fast-growing trees, Lombardy Poplar is the option that you should go for. These trees grow so fast their growth rate is up to 6 feet per year. This also means you can create your natural privacy screens within a few years. Not to mention that these trees are very hardy, they also make incredible windbreaks for you as well. The mature size of a Lombardy Poplar is between 40 to 50 feet tall with a width of 10-15 feet.
Maintenance is one of the things that you should pay attention to when growing these trees. You need to provide them with some pruning for the perfect shape and a lot of cleanups as well. They drop many leaves and twigs daily, and you will need to do plenty of regular cleaning. More than that, the female trees will drop a lot of cottony seeds that you will have to clean also. Another drawback that you might want to consider is that they are short-lived, living only around 15 years. Diseases and pests are their main threats, but Lombardy Poplar trees are great besides these downsides.
#9 – Moonglow Juniper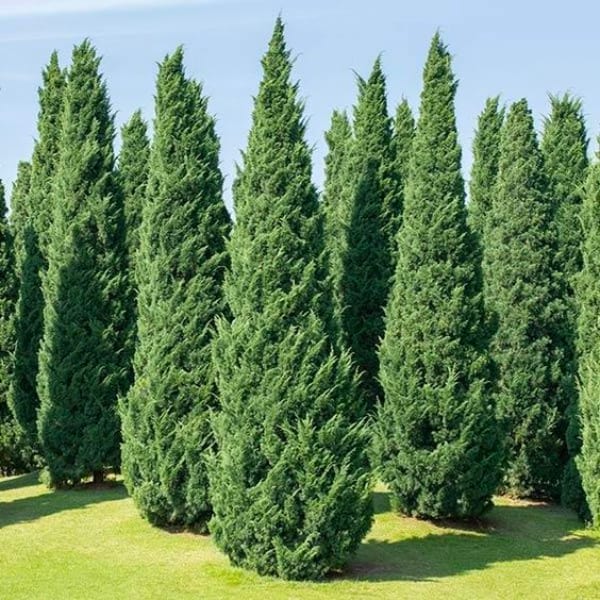 A little denser and taller, Moonglow Junipers can grow up to 18 feet with a width of 6 feet. This beautiful tree has a narrow pyramidal evergreen shrub along with blue berries and silvery-blue foliage. Along with that, it has very stunning grayish-green foliage that remains like that throughout the entire winter. The foliage is needle-like, and this tree makes a great vertical accent for various landscape conditions out there. And with this height, Moonglow Junipers are also ideal for tall evergreen hedges in the garden as well.
On top of the beauty, Moonglow Junipers are also low maintenance and easy to care for. Prune them once in winter, and you are good to go which is so convenient and easy to have. However, they can be a little leggy with a typical clearance of 2 feet from the ground. Bear in mind that this shrub grows well in full sunlight, and it is adaptable to both dry and moist growing conditions. Very ornamental and versatile, no doubt why Moonglow Junipers are among the best tall skinny trees for privacy.
#10 – Sky Pencil Holly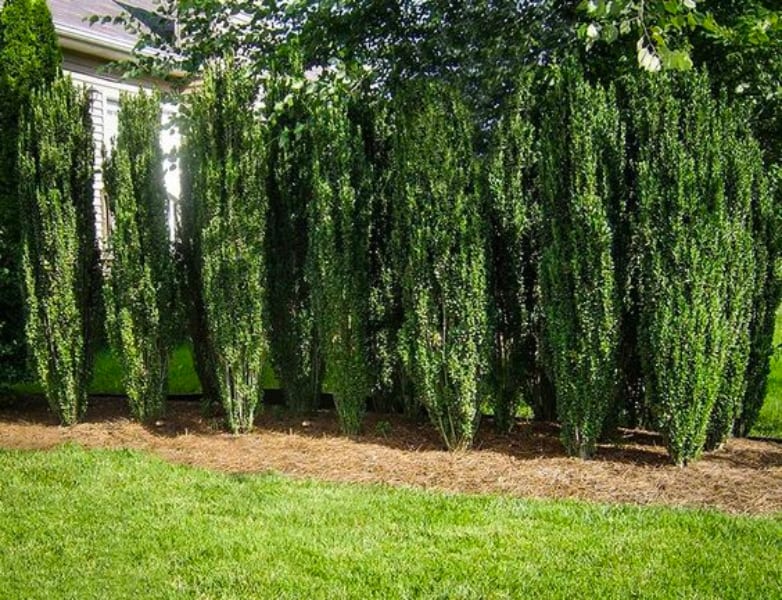 Neither too short nor tall, Sky Pencil Holly is one of the best narrow trees for tight space and a small garden. Their mature height is from 6 to 10 feet with a width of 2 to 3 feet, simply perfect for narrow spaces. The narrow columnar form of Sky Pencil Holly makes it a perfect addition to pretty much any small area. Even better, their shape is so flawless and neat they align so nicely next to each other. Simply grow them in containers, and you will surely love the beauty and elegance that Sky Pencil Holly trees provide.
One of the most special things about Sky Pencil Holly is that there is always room for them. Its pencil-thin growth habit is extremely gorgeous, and you can have it in any space you have in mind. More than that, its dark green elliptic leaves brighten up the entire area vibrantly, which is super wonderful to look at. If you have female trees, you will also get beautiful purple berries and small white flowers in spring. So hardy and so stunning, no doubt why they are among the best tall skinny trees for privacy.
#11 – Skyrocket Juniper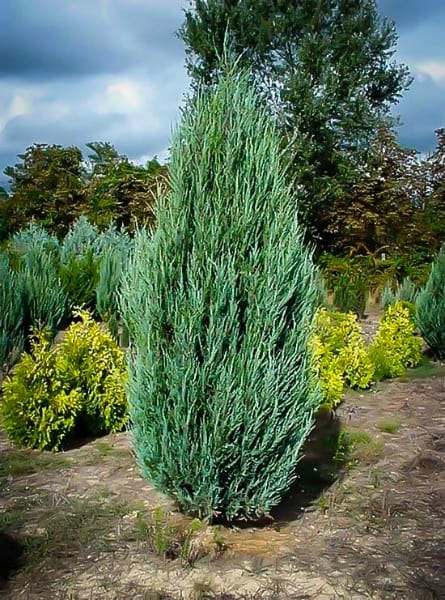 A tree of many benefits, Skyrocket Juniper is one of the versatile trees that you can use for various purposes. Many people like to grow them as a focal point in the landscape due to their exceptional appearance and beauty. Meanwhile, there are also other people who love having Skyrocket Juniper as privacy trees on their properties. Thanks to the vertical growth of the tree, it does not need a lot of space to grow at all. Skyrocket Juniper trees are narrow columnar trees that reach 20 feet with around 3 to 12 feet spread when mature. However, it takes up to 50 years to reach maturity since these trees are slow-growing.
As for the look, its foliage is bluish green with bluish gray cones that look like berries. Even the bark of the trees looks appealing, and every part of this tree compliments each other well. The beautiful green color is one thing, the aromatic leaves of these trees are another incredible thing. Its foliage is scale-like, and it emits a beautiful aroma when crushed, which is so lovely. Maintenance is also easy and simple since these trees rarely need pruning. And since the foliage does not produce much mess, cleanup won't be an issue to worry about either.
#12 – Swedish Columnar Aspen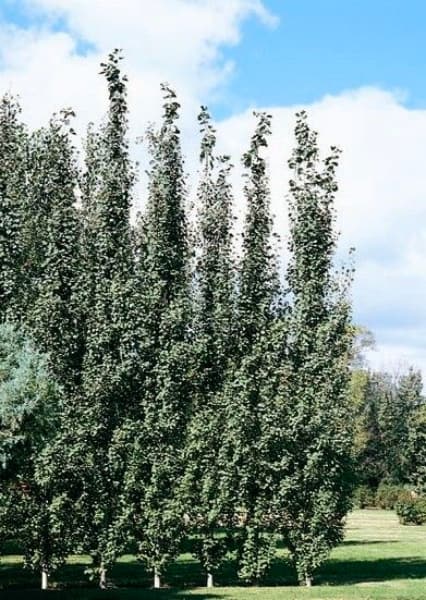 All they need is full sun, and Swedish Columnar Aspen will grow up to 30 feet high and 5 feet wide. On top of being so easy to take care of, these awesome trees are also great to have in tight spots. Their columnar form is both elegant and space-saving, making them perfect for small gardens out there. While being slender and tall, Swedish Columnar Aspen has a dense canopy that looks really nice. Plus, with the branching near the ground, this tree just looks absolutely incredible. Not to mention the forest green foliage throughout the season; having them is perfect for any spot.
#13 – Thin Man Thuja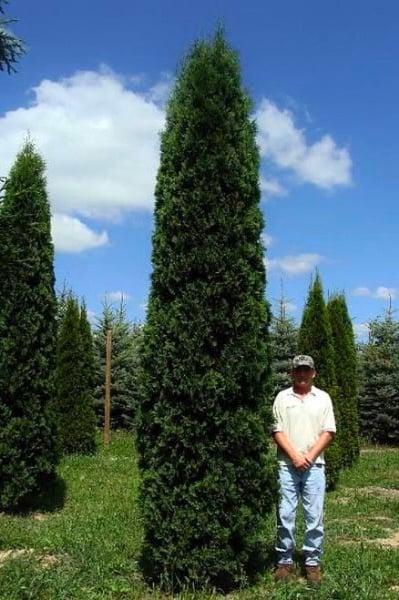 The name says it all, Thin Man Thuja is a thin type of tree that is perfect as hedges and screens. These tall skinny trees for privacy are so narrow, and this growing habit allows you to have tight space. At the same time, they fit into landscapes easily while offering privacy all year long. It's mainly because its color stays that way throughout the entire year, even in winter, which is absolutely amazing.
On top of that, Thin Man Thuja is also fast-growing, so they reach their 15 feet height within a few years. The best part about them is that these trees attract bees, birds, and butterflies. Simply makes your garden more lively and wonderful with all the nature beings. Not to mention that they are deer-resistant and wind-resistant; having them in the garden is just so amazing. Easy to grow and maintain, they could be your next favorite narrow trees for privacy.
#14 – Weeping White Spruce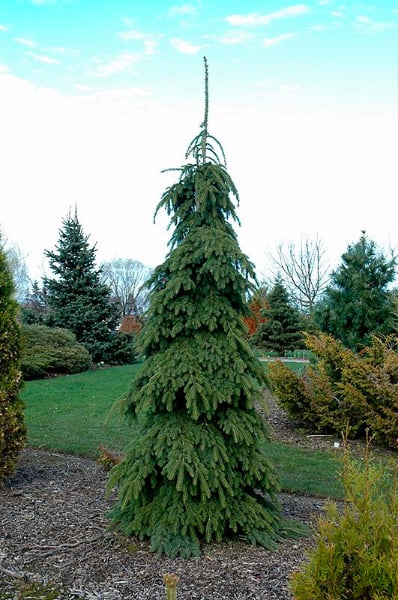 For those who like narrow trees that are quite tall, you need to check out Weeping White Spruce. The special thing about this tall tree species is that it grows tall, making it an amazing privacy tree choice. They can grow up to 40 feet tall, and these trees thrive in full sun, and they prefer a cool climate. These trees grow quite quickly and reach 10 feet in their first 10 years which is quite fast. Weeping White Spruce is very easy to grow and care for, and you don't even need to prune it at all.
It has a narrow silhouette and dangling branches from the top all the way to the bottom of the tree. Weeping White Spruce is also a hardy narrow tree that can grow in loam or sandy soils. Its width is only between 4 to 6 feet, making it so perfect for small gardens and tight spaces. This pretty pyramidal evergreen will totally compliment your home with its slender and tall shape every day for years to come. Not to mention that they may attract many forms of small wildlife like birds and chipmunks; these trees are incredible.
Bonus: Lilly Pilly / Syzygium Australe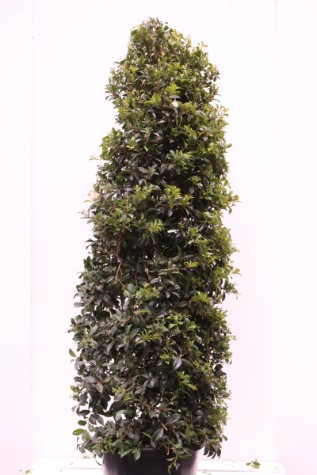 Goes by so many names like brush cherry, watergum, and more; Lilly Pilly is a rainforest tree native to eastern Australia. These dense native trees have beautiful leaves that begin with bronze and turn deep green, looking so glossy and vibrant. The great thing about them is that their foliage grows right down to the ground, perfect for hedging. At the same time, they also respond well to clipping, so maintenance is also convenient and easy for you.
If you have seen one, you may also spot the bright red fruit that Lilly Pilly produces. The fruits came from the creamy white powder puff flowers before turning into crisp and fleshy fruits. Besides having them as hedges and privacy screens, you can also use their fruits for making jam. More than that, you can even eat the fruits raw as snacks which is a total plus. Those fruits also attract birds to the garden, making your space a natural spot for everyone. Lilly Pilly is quite common and popular as garden hedges in Australia, and you should definitely take it into consideration.
Wrap Up
Creating a beautiful and natural privacy screen is easy and simple with narrow trees. They do not only keep your neighbors from seeing your home but also look nice at the same time. The great thing about using skinny trees as privacy screens are that they are not too obvious. Even better, their appearance is just great. Not to mention that there are so many types of pretty trees to choose from; the option is endless for you. I am sure hope that at least a tree or two in the suggestions above match your preferences.