Driveway gates say a lot about a house, and this is why you have to choose the right ones. You won't have to spend much either since there are many cheap driveway gate ideas that you can consider. The best part is that many modern driveway gates are affordable, and you will surely love them. The list below contains up to 40 cheap driveway entrance ideas, so let's see if you like any of them.
Cheap Driveway Gate
1. Automatic Metal Driveway
You probably think how can an automatic driveway be cheap, but it is. This sliding metal driveway gate is operated by either remote control or voice control, and it works wonders. While having a reasonable price, its performance and quality are also satisfying. The metal gate itself is super durable and tough while the overall look is so nice. Since the modern automatic function is also awesome, it is simply great to have.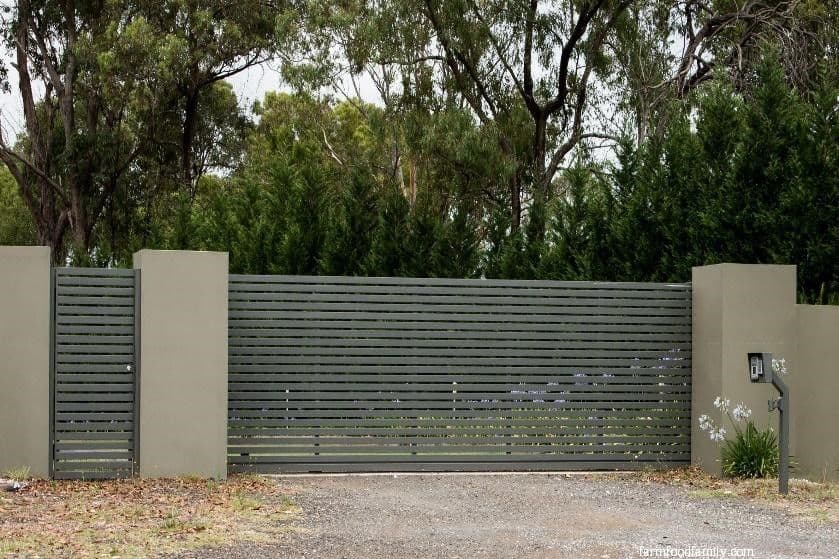 2. Big Panels Driveway Gate
The combination of big wooden panels creates a unique look to this driveway gate here. Even better, the side posts with big lamps complement each other really well. It saves a lot of materials and its appearance is also very nice and never out of style. I would recommend a different color for the posts, but the choice is all yours. This idea looks quite mighty, and it is perfect for big houses out there.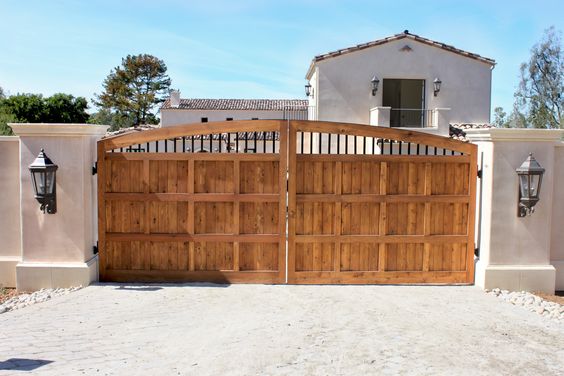 3. Custom Wooden Driveway Gate
You can still go for a wooden driveway gate but with a twist like this one right here. Just paint it white, and it looks just like many modern driveway gates out there, which is absolutely great. I like the overall design of the gate, for it looks so neat and sophisticated at the same time. You can also add some lights on the side pillars to illuminate the gate at night; it will look amazing. Depending on your preference in style, there are many ways to be creative and the decision is all yours.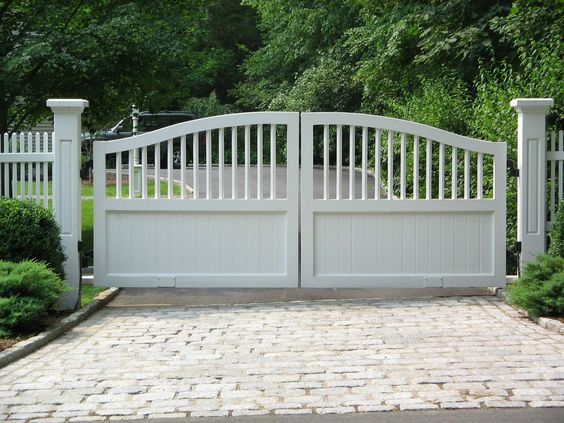 4. Hardwood Driveway Gate
When it comes to durable and rugged driveway gates, hardwood is one of them. This hardwood driveway gate is heavy-duty and long-lasting, and it won't go anywhere even after years. Not to mention the glossy finish, it makes a beautiful impression on whoever stands in front of it. You should add some lights on the ground and to the side posts, and it will look incredible at night also.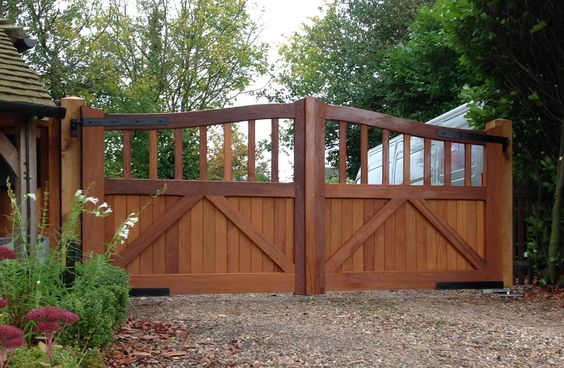 5. Metal Driveway Gate
Metal is an extremely durable and long-lasting material to go for when it comes to cheap driveway gate ideas. If you look at this, you probably think that it is very expensive due to the appearance and design. However, it is way more affordable than you think because metal is an inexpensive material to get. The classy black or matte color will elevate the look of the gate, so don't forget to consider this one.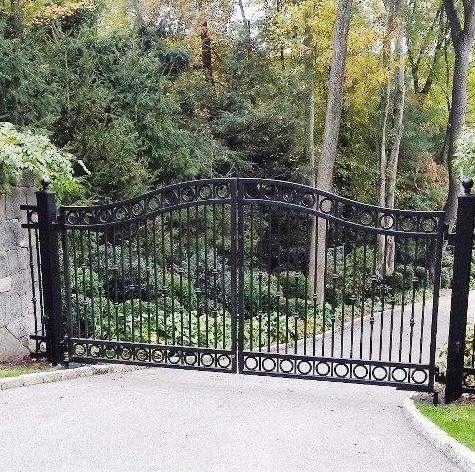 6. Mid-Century Wooden Driveway Gate
Think outside the book and go for a unique driveway gate idea like this one right here. All you need to do is arrange wooden slats in irregular patterns inside a steel frame, simple as that. This driveway gate provides a vintage look while being long-lasting and stylish in one. Plus, with the low cost, you can easily build your driveway gate within a week.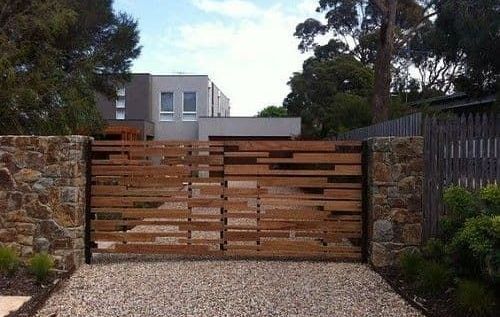 7. Minka Woodwork Driveway Gate
Here we have a Japanese-style driveway gate that is not only sturdy but also stylish. Every detail of this driveway gate shows precisions and classes that you will love. Plus, with the contrast from the colors of wood, this driveway gate is absolutely one of a kind. This idea makes a nice option to choose for urban areas, but it looks incredible for vintage homes too. Japanese design will not let you down, and this idea says it all.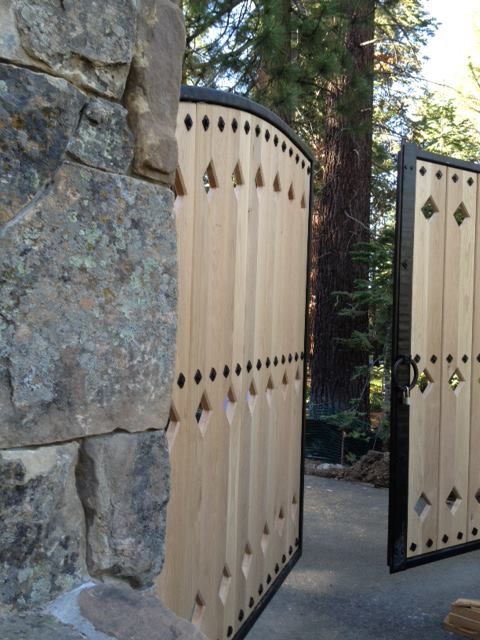 8. Timber Slat Fence & Gate
Durable yet inexpensive, this is one of the cheap driveway gate ideas that you should take into consideration. Timber is a durable material that does not break or corrode easily, making it perfect for fences and gates. You can bring out the elegance by pairing it with white posts like the image here. The combination of these two looks extraordinary together, and it does not cost a lot at all.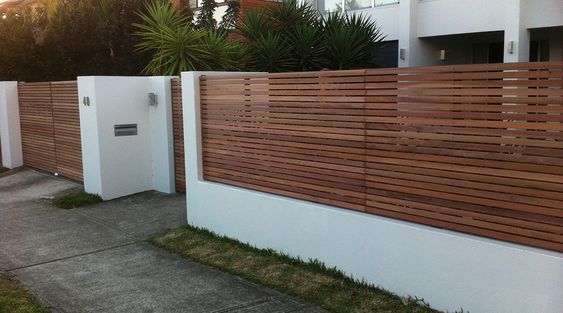 9. Vinyl Picket Driveway Gate
We all know that picket fences look great pretty much anywhere from rural to urban areas. They also make great cheap driveway gate ideas because of their classic appearance and affordable price. Just like most driveway entrances on the list, this one is also very easy to build or buy. It complements your house with style, and it is also durable and easy to maintain.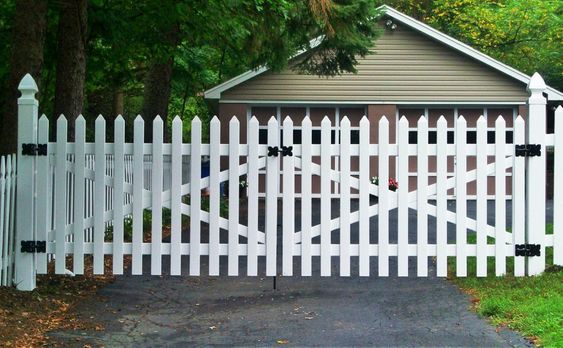 10. Wooden Gate & Grid Wire
No matter how big or small the gate has to be, these two materials will never cost you a lot. In fact, you can find them from your local stores easily, which is so convenient. With some tools, you will be able to build this awesome and cheap driveway gate in no time. You can paint it or leave the original color like so, the choice is all yours.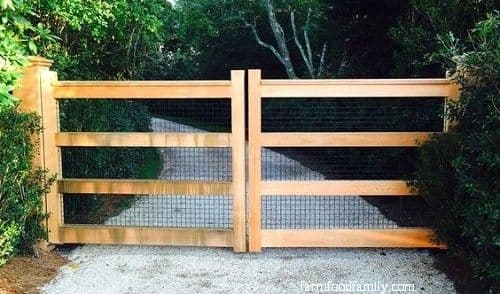 DIY Driveway Gate Ideas
11. DIY Wood Gate
The easiest DIY driveway gate ideas are definitely the ones made from wood, and it is also inexpensive as well. This idea is so simple, and it does not require a lot of materials at all. Just some wood and handy equipment, then you are good to go. The awesome thing is that it won't take you long since the process is so simple. This could be something that you will like, so check it out.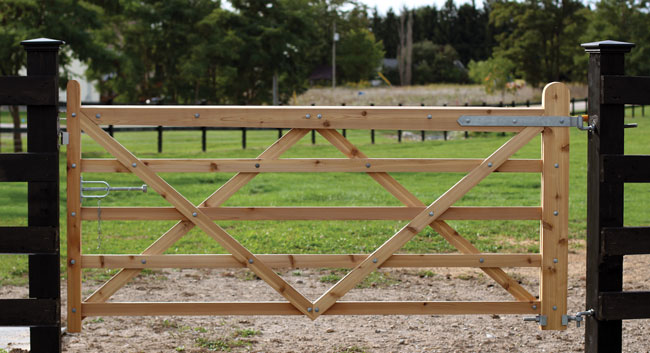 12. Double Swinging Gate
This looks like a lot of work for a DIY, but its final look is incredible. You will need several materials such as picket, slats, some powder coating, and more. Make sure to choose a high-quality type of wood so that they are durable and long-lasting for years to come. This is one of the best DIY driveway gate ideas with a look that complement many home designs; you'll like it.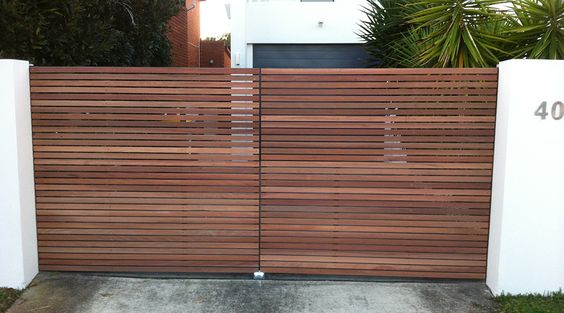 13. Glemhem Gate With Curved Top Rail
So Glemhem gate is the type of gate with a straight topped framed that requires a simple hardwood to build. By adding the curved top rail, you simply create more taste to the entire gate, which is easy. And, of course, it is so easy to build while the cost is also low. As for the color, either the original or other color options look great, so the choice is all yours.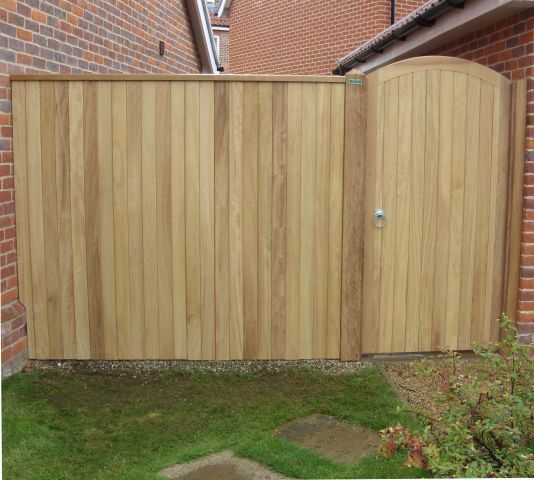 14. Large Driveway Gate
Small wood is not so durable, and maybe this large driveway is definitely the solution. You can go for large pieces of wood, and it is still easy to achieve, but you will need bigger nails. As you can see, this driveway gate is rugged enough to withstand harsh weather conditions like cold or hot. So if you want a tough driveway gate, you might want to take a look at this one.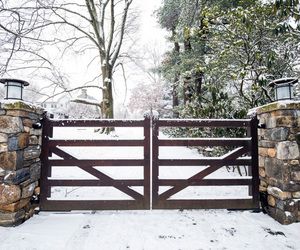 15. Oak Driveway Gate
Oak is one of the most durable materials you can find, although the price is a little higher than others. My favorite part is the color of the wood itself; it does not fade easily at all, which is awesome. Of course, you can add some coating to keep the color even longer if you'd like. Also, a design like this is easy to achieve; let's see if you find this interesting.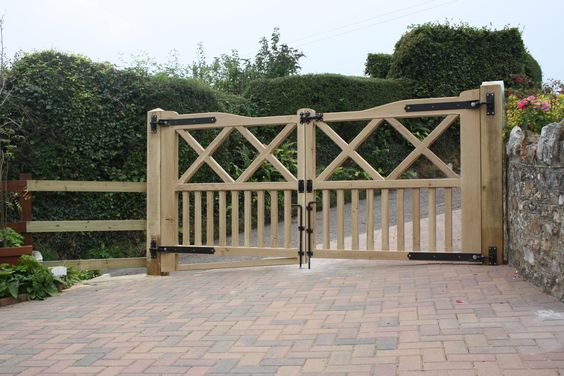 16. PVC / Wood Driveway Gate
What makes this idea great is that you can go for either PVC or wood as the material of choice. It is easy and fast to achieve, and you won't have to spend a lot at all. The most difficult part, in my opinion, is the big frame that supports all the PVC or wooden slats. Make sure to select the durable and supportive ones so that they remain in place. Rather than that, this is a cool DIY driveway gate idea.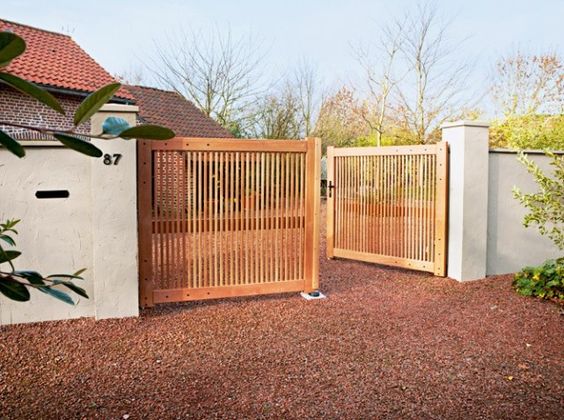 17. Rustic Driveway Gate
Things never go wrong with the rustic look, and this driveway gate says it all. The best part is you can DIY this by yourself within a few days if you are handy. What I like about this idea is that you can get very creative with rustic design. The image here could be the inspiration, but you can build it however way you like.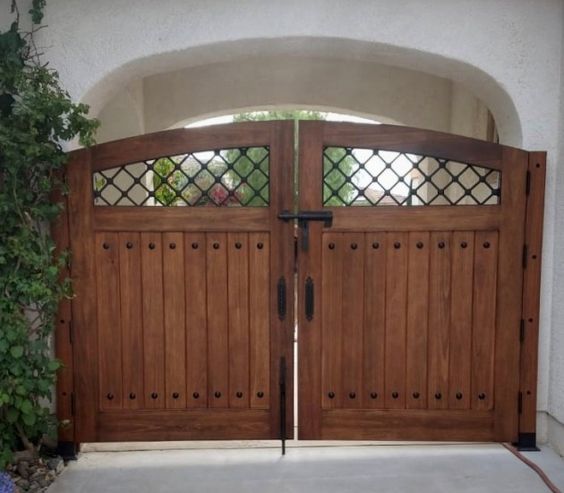 18. Small Wooden Driveway Gate
By the look, you can already tell that you can easily build and DIY this driveway gate in no time. Just some nails and wood, and you will have a very cool driveway gate within hours. The elevation in the middle part looks really nice, making a regular wooden gate look elegant and modern. This color is great, but the decision is all yours.
19. Sturdy Wooden Driveway Gate
I know that this driveway gate is going to take some time to build, but it lasts for so many years. The large and thick wooden slats are already durable and sturdy, and the presence of the back support makes things better. It ensures that the slats will not fall apart, and it looks amazing as well. This idea brings out both the appearance and the quality, and you will regret it into consideration.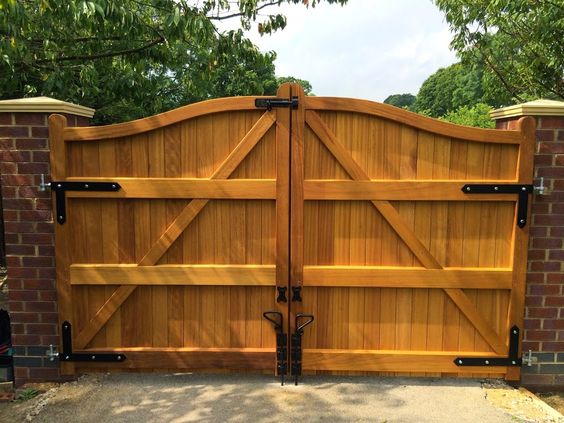 20. Wooden Sliding Gate
Sliding gates are so convenient, and you can equip them with smart sensors for automatic opening and closing as well. The awesome part is that you can use simple wooden slats; you just have to go for the thicker ones. This ensures that they stay in place, and the final result is amazing. Plus, with some wheels underneath, opening and closing your gate will be super easy.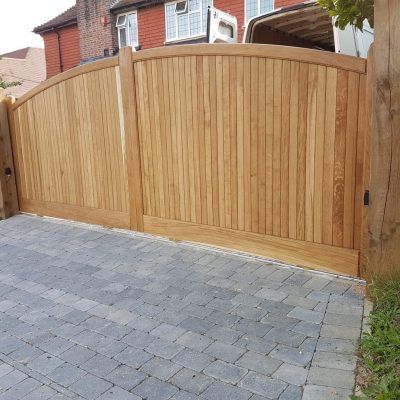 Modern Driveway Gates
21. Aluminum Full Privacy Driveway Gate
Here we have a combination of class and privacy, making it one of the most modern driveway gates to have. Along with that, this gate idea is perfect for all modern house designs out there. The glossy or matte black aluminum is very cool and stylish, and it is also very durable. With both quality and style, there is every reason to choose this idea.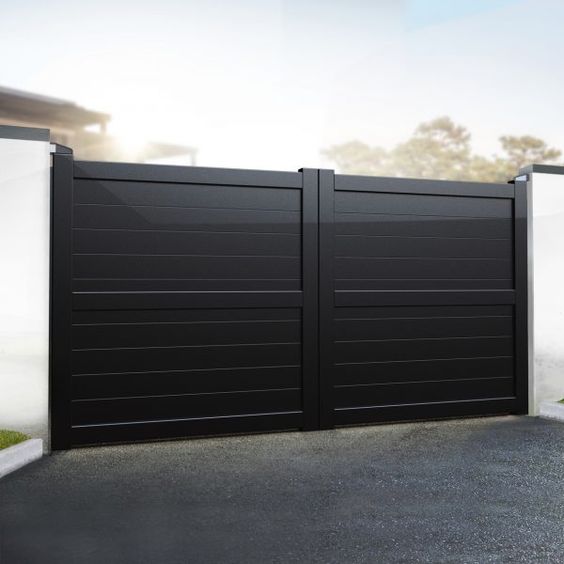 22. Diagonal Wooden Slat Driveway Gate
With so many patterns, diagonal is clearly the most stylish and unique to have as a driveway gate. By arranging the slats into diagonal patterns like this, you can create a modern look right away. Not to mention that it also minimizes your privacy; this gate is simply awesome. Plus, with the sliding mechanism, it is super convenient to use.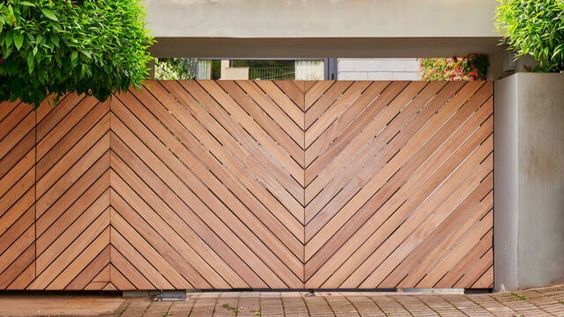 23. Flat Top Metal Double Driveway gate
Simple yet modern, this driveway gate is ideal for those who like the minimalistic type of gate. The flat top design shows that you don't want it to stand out but want to keep it cool at the same time. Meanwhile, the metal material shows durability along with class and elegance. It matches great with white posts or walls, the brick ones like this picture here will also do.
24. Hi-Tech Aluminum Driveway Gate
One of the most important things about modern driveway gates is the technology. For example, this gate here automatically opens and closes on your command, which is convenient. On top of that, its high-quality aluminum and privacy design make it even more awesome. So perhaps among the modern driveway gates you like, I highly recommend this one.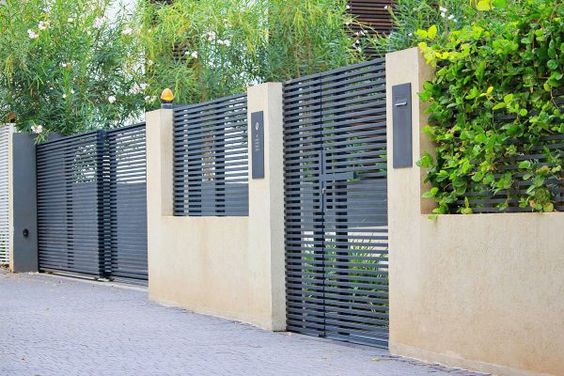 25. Horizontal Aluminum Driveway Gate
While the previous one has a vertical look, this one comes with a horizontal pattern instead. Still looks amazing, and the aluminum material is also durable and long-lasting. When it comes to modern driveway gates, black color is one of the best options. It is low-key and nice yet so pretty and stylish at the same time. So if you like it, you should definitely go for it.
26. Iron Sliding Gate
In case you don't want much, this automatic wrought iron gate could be a choice to choose. What it does is give visibility while looking modern and stylish without trying too hard. The patterns that the iron slats create are unique, and the automatic system is a total plus. Don't forget powder coating to prevent corrosion and rust, and you are good to go.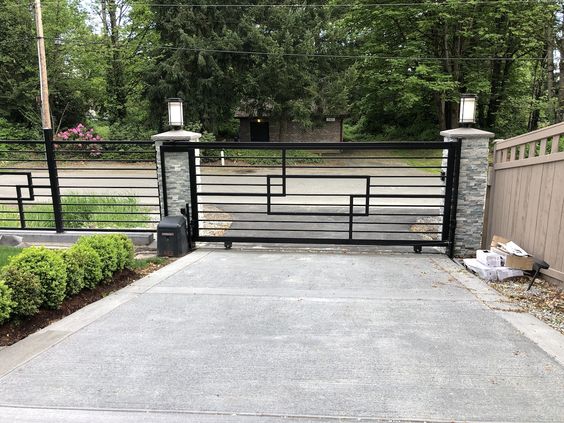 27. Sliding Metal Gate
Sliding gates are convenient, and the design of this one makes it perfect for modern homes. The different patterns of the metal slats create a unique yet elegant look for the gate itself. At the same time, it is also affordable and easy to design. In case you something new, this is one of the ideas to have in mind.
28. Wood Panel Gate With Steel Frames
Slats are not the only options you have; wood panels are great too. They also create a different look since you need three panels per frame which is super nice. On top of that, the color and material of steel frames make everything even more durable and supportive. Not to mention that it is a sliding gate, it is clearly one of the most modern driveway gate ideas.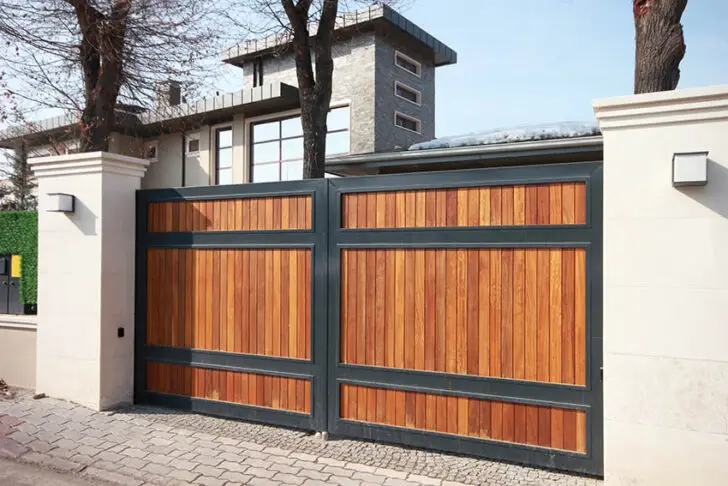 29. Woven Metal Driveway Gate
You have heard of woven gates, but a woven metal driveway gate is definitely a new thing, and it is. It looks modern and appears powerful and superior, making it among the best modern driveway gates. The best part about metal is that it lasts forever since it does not break or tear apart. All you need is a powder coating to protect it from corroding and rusting, simple as that.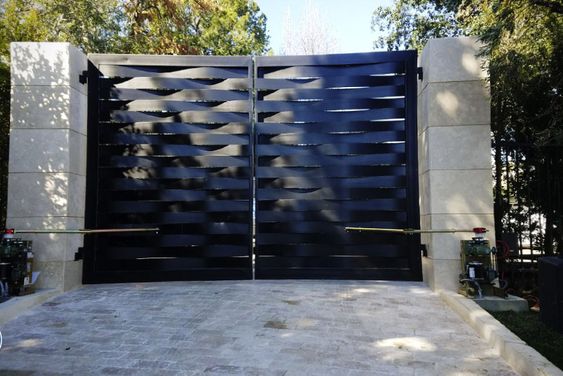 30. Wrought Iron Driveway Gates
When it comes to elegance and luxury, a gate with a design like this definitely stays on the list. The best part about this wrought iron driveway gate is that it has everything from durability to looks and style. More than that, it looks great with any home design or posts and walls that you have. It could be a little pricey, but it is so worth it.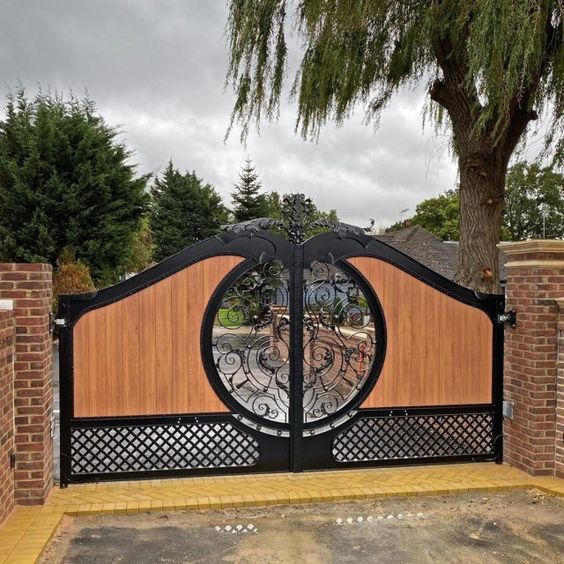 Simple Driveway Entrance Ideas
31. Aluminum Driveway Entrance Gate
If we talk about simple driveways, aluminum is one of the best materials to have in mind. It stays low-key while being durable and classy at the same time for you. Even better, its price is also affordable and reasonable for most people out there. With the matte black color, aluminum driveways make a nice complement to most homes. From regular gates to sliding ones, this type of entrance works with them all.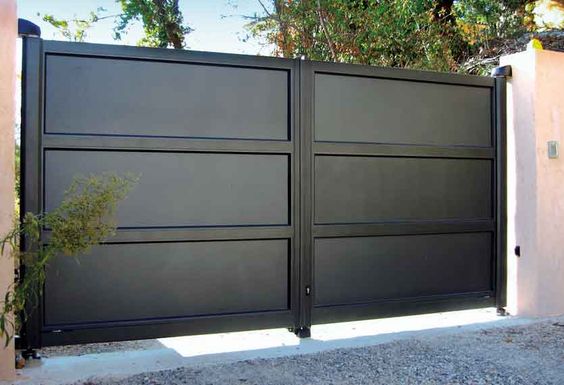 32. Contemporary Driveway Entrance
Simplicity is nice, especially when it brings great style at the same time like this. It looks modern yet so simple at the same time, while the durability is also long-lasting. You can have it slightly above the ground or install it as a sliding gate. Either way, it looks great and works great, which is simply wonderful to have.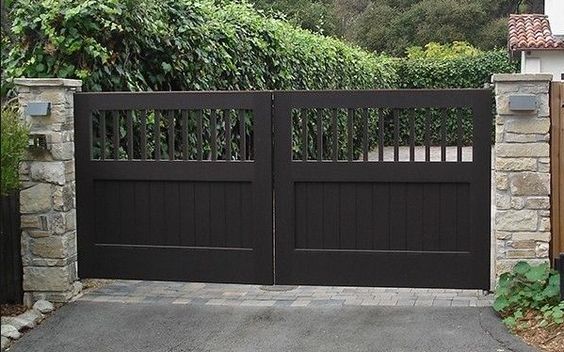 33. Hardwood Driveway Gate
If you want to go for something simple, this is the type of material and design that you should think of. Hardwood is durable and sturdy, and it complements both modern and vintage homes. The only thing that you might want to change is the color while the material and style are so versatile. Besides this, the gate has it all for you without costing a fortune also.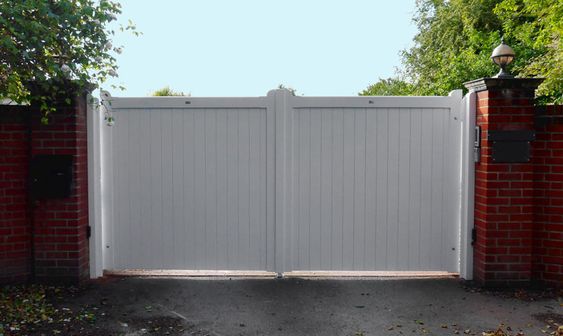 34. Iron Entrance Gate
Half modern, half simple, this iron entrance gate has it all in one for you. The design is rather simple, but the overall appearance is elegant and modern, which is a total plus. You can have it custom made for you, and aluminum is a suitable material for this style. In case you want it to be metal or steel, you might want to throw in some more budget. Feel free to check it out; this entrance gate is super nice.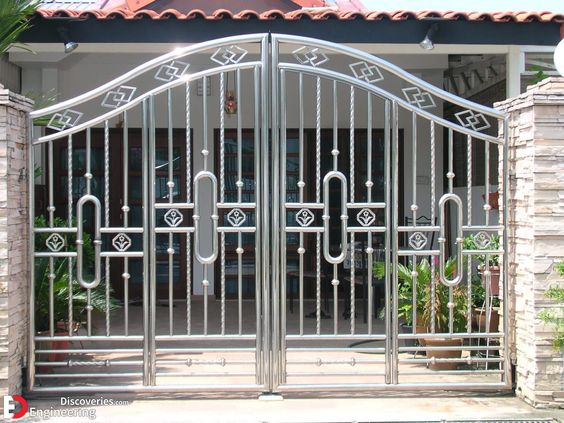 35. Metal Double Gate
While the private gate is simple, adding a twist like this simply creates a bit of style to your entrance. The extra square on the side serves just one purpose, making your gate looks different and unique from others. More than that, a design like this also brings more class to your home. Metal is durable and sturdy, and having this as your entrance proves your great taste in style with simplicity in mind.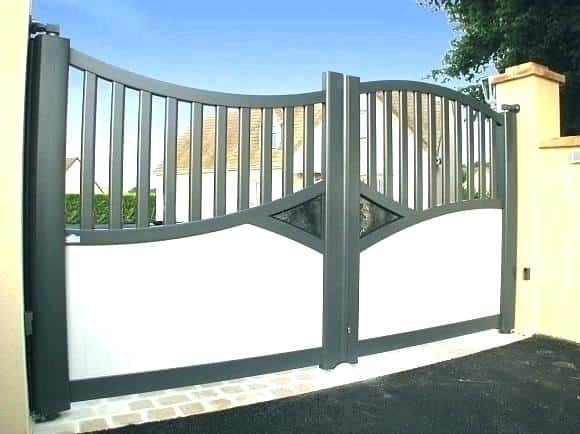 36. Private Picket Driveway Gate
Picket has to be one of the first things you should think of when it comes to simple driveway entrance ideas. Many people probably think about the traditional designs of picket fences, but it does not have to always look like that. This picture is a perfect example, a simple yet stylish picket driveway gate to have for pretty much any home. Its clean and neat design shows class and style while the whole thing looks incredible.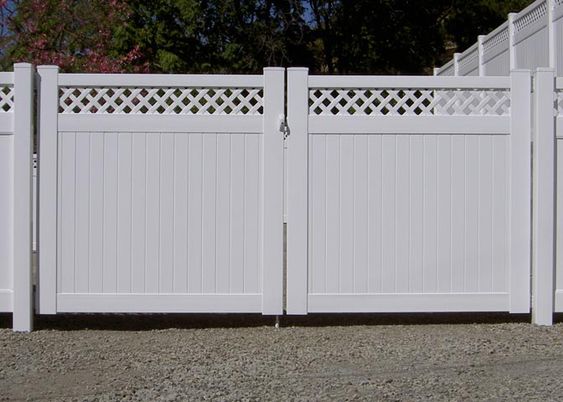 37. Rustic Driveway Entrance
I always include a rustic design in each type of driveway gate because it simply looks great. As for this rustic driveway entrance right here, it features the modern yet vintage style. The classic wooden panels along with aluminum or metal structure on the top part say it all. There are even vintage handles that you can pull to open or close the gate. This is definitely among the best yet simple driveway entrance ideas to consider.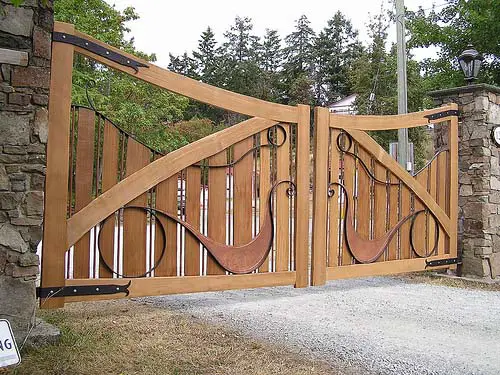 38. Tuscan Driveway Gate
While it looks like a lot, this gate is one of the simple driveway entrance ideas to have in mind. It is elegant yet humble while providing nice visibility for those who prefer that. Most importantly, this Tuscan gate complements the house and space with grace. There are so many other designs for you to choose from; let's see if you like this idea.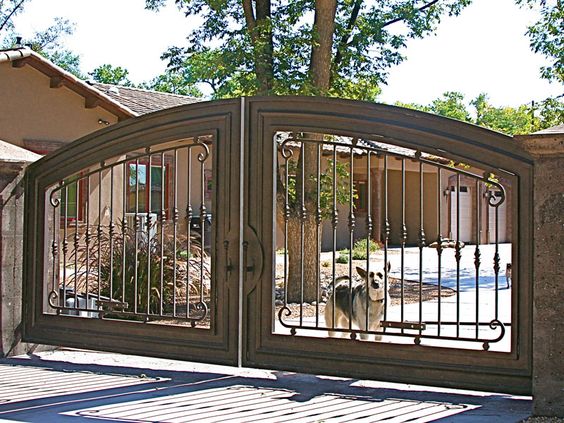 39. Vertical Basket Weave Cedar Fence
Here we have a unique entrance that features a combination of cedar fence and vertical basket weave gate. The main gate is either metal or steel, depending on your preference, and it is durable and long-lasting either way. Along with that, the cedar fence on the sides just adds a humble look to the entrance. In case you prefer all of them to be metal or steel, that also works too. Because this one has a garden, maybe this is why the wooden fence makes a nice complement. It is overall, and you might like it.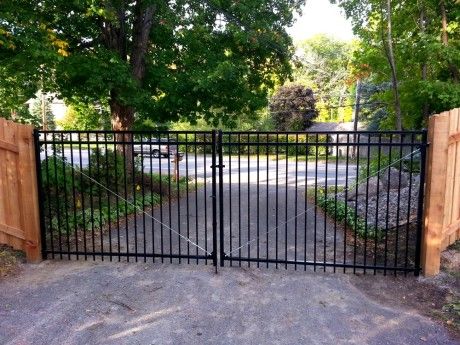 40. Wrought Iron Gate
Wrought iron gates can also look simple, and this is a great example of one to have in mind. The classic double swing and arrow design make this gate one of a kind. It is among the simple driveway entrance ideas that you can have for many different home designs out there. Durable and simple yet good-looking, don't forget to check it out.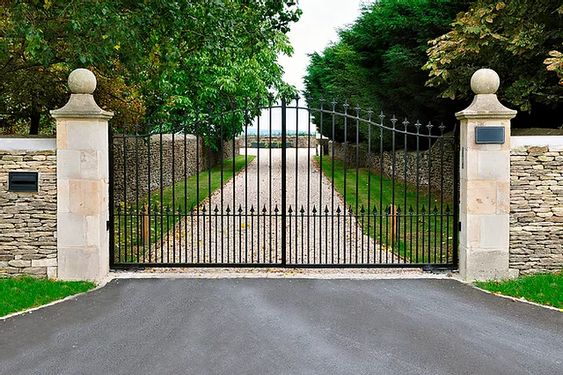 Final Thoughts
From modern driveway gates to simple driveway entrance ideas, I included them all for you in the list above. This is to ensure that you are able to choose just the perfect driveway gate that matches your home design. Since there are 40 of them, maybe you at least find one or two interesting. Affordable and cool, I sure hope they have what it takes to catch your attention