A backyard pavilion is a small outbuilding in the backyard that resembles a kiosk but is fancier and more modern. The special thing about backyard pavilions is that they indicate a status symbol, and they represent your luxury. When it comes to backyard pavilion ideas, there are a ton of them that you can choose from. However, we are going to focus only on the most sophisticated ones today. From the open wall to the romantic pavilions, you will find them all in the list below. Perhaps one or two ideas may catch your attention, so feel free to check them out.
1. 10 Sophisticated Backyard Pavilion Ideas
Idea 1.1. Backyard Bar Pavilion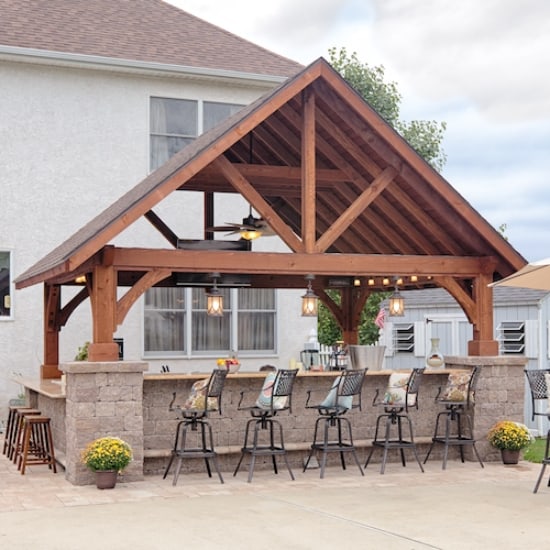 Since it is always nice to have some beer outside, why not a backyard bar pavilion, right? It is a cool pavilion idea that can accommodate several people in your backyard. It is refreshing and relaxing, and everyone can have a good time together. This design also makes a nice station for drinks when you have your backyard parties as well. Not to mention the aesthetic look that complements any home design, this backyard bar pavilion is definitely a cool choice to have in mind.
Idea 1.2. Cambridge Pavilion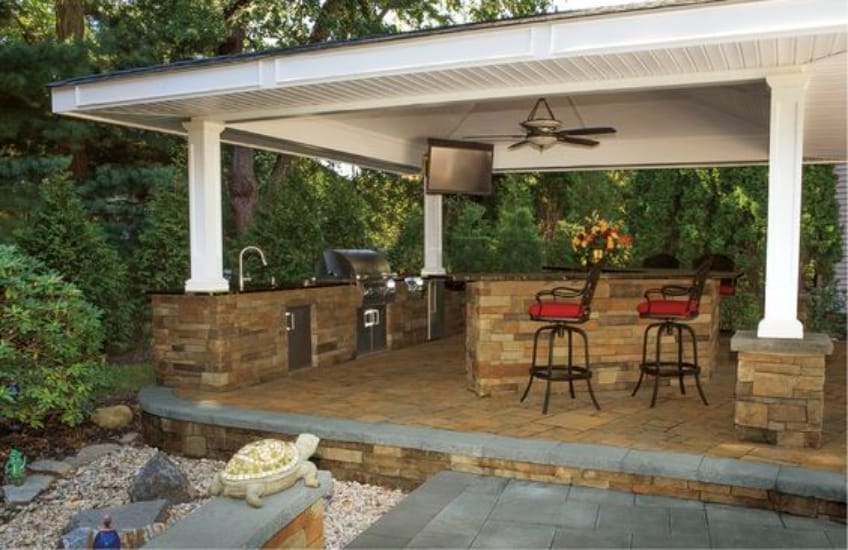 This is a backyard pavilion with the design from Cambridge paving stones that look great in the backyard. A design like this adds a nice touch to the house that has brick or unique stone elements. I like the fact that it does not take up too much space but provide a nice room for many things. There are even a cooking station and kitchen sinks that you can cook outdoor if you want to. So if your backyard has a similar look to this, you might want to take this idea into consideration.
Idea 1.3. Hampton Pavilion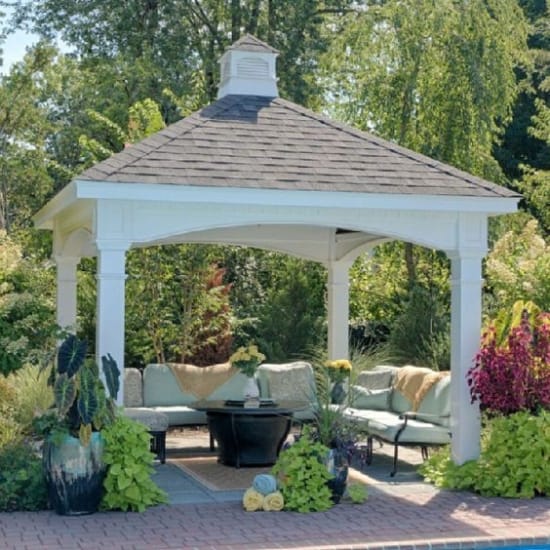 What I like most about this pavilion idea is the fact that it saves your space without losing its style. A Hampton pavilion is one of the most luxurious and stylish choices that look amazing in many backyards and home settings. Not to mention that its design is very inviting for the guests, it simply looks great behind your house. You can have it as a small space to sit back and relax while enjoying the beautiful and peaceful surroundings. Also, it is a nice place to have a cup of coffee and read books on a nice day. If you don't want to go for anything big, this can be the inspiration for the pavilion in your backyard.
Idea 1.4. Mini Sunset Room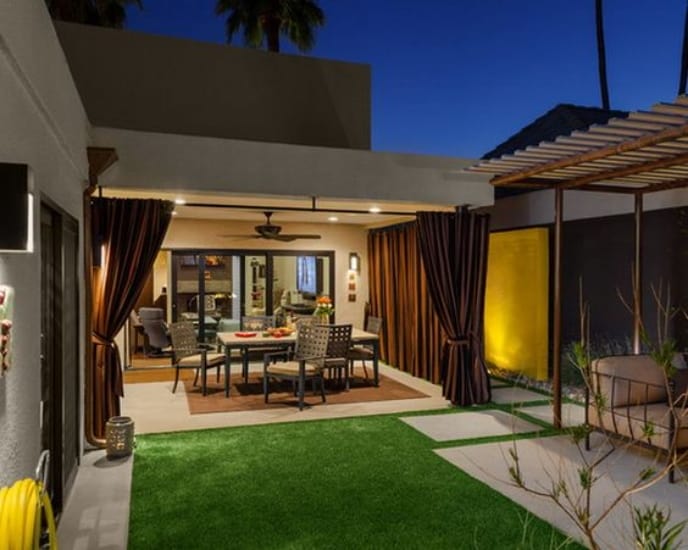 Sunset room is one of the most elegant and modern space designs in various settings in many resorts. You can also create your own mini sunset room by taking a space in the backyard to build one. This gallery-style space looks like a part of your house but it has no walls. Instead, there are curtains around that you can easily open for views from any angle. As you can see, it looks like an outdoor dining room that sits in the backyard. However, you can easily be creative with it by adding the color or design of your choice. If you have available space in the back like this, you really should consider this idea because it is very nice.
Idea 1.5. Modern Wooden Pavilion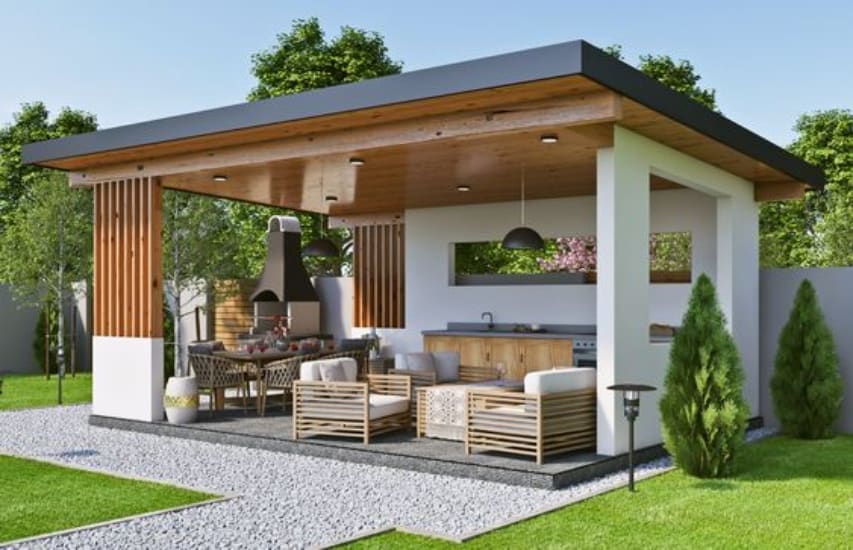 Inspired by French designs, this modern wooden pavilion will definitely bring all the aesthetics that you want. It features a clean and neat design of white and wooden background, ceiling, and pillars. The space also provides room for pretty much anything from furniture to a cooking area and a sink. You can have your night outs, parties, and other celebrations in this modern pavilion with style. A design like this looks amazing in pictures, and it makes an incredible complement to the backyard as well. It is not only stylish but also unique, you don't see a lot of backyard pavilions that look like this.
Idea 1.6. Open Air Gazebo Pavilion
I know those who don't like to be in the room-type pavilion, and this design is just perfect for them. This open-air gazebo pavilion has enough space for a small family or group of friends to relax and talk. Fresh air can get in from all directions, and you can also see the view around. The nice thing about this backyard pavilion idea is that it is also easy and quick to build. It does not need too many materials, and you can decorate it just the way you like. With some furniture and light, it will look minimalist yet sophisticated like this one. The only important thing to have in mind is bugs because of its design. Make sure there are no annoying bugs around if you like this idea.
Idea 1.7. Outdoor Mini Bar Style Pavilion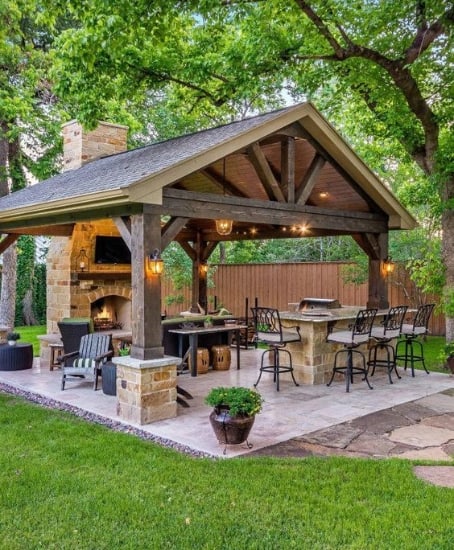 For those who have a large space in the backyard, take a look at this pavilion idea right here. It is a mini bar style that looks absolutely cozy and welcoming in all seasons throughout the year. The design of this backyard pavilion provides space for several people with room to spare. There is also a station that you can throw a barbecue party and other parties as well. The fireplace makes it look so tasteful and welcoming for a wide range of events and occasions. This pavilion is a nice place to relax on both cold and hot days, and I think you might like it.
Idea 1.8. Small Outdoor Pavilion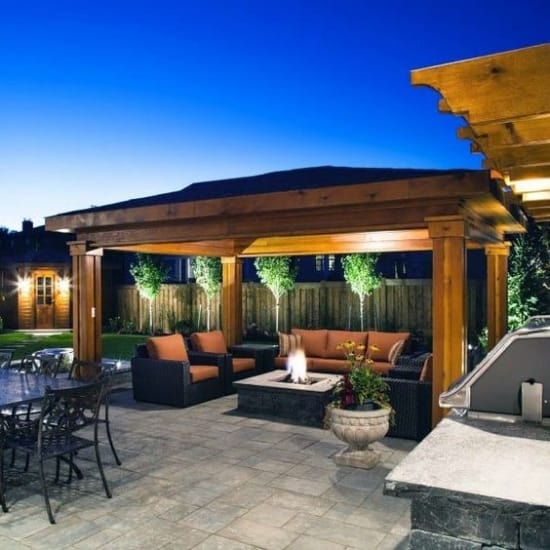 In case you only want a small pavilion just to relax for fresh air, this is a cozy design for you. It takes up little space, just enough for a few sofas and a coffee table. Your family and friends can sit around and enjoy talking while the open space provides fresh air. It may be small, but the structure of the design is quite extraordinary in order to complement your space. Plus with the furniture that you add, it will look nice and simple which is a great idea to consider.
Idea 1.9. Timber Gazebo Pavilion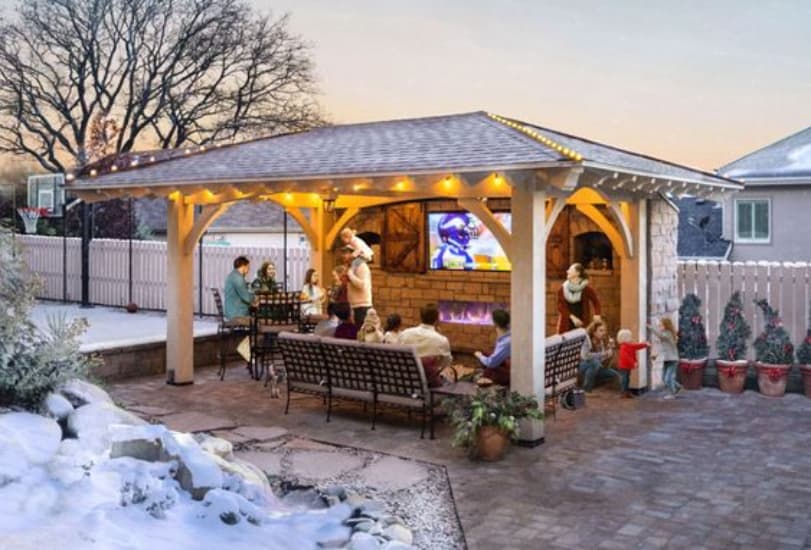 Want to create a cozy space in the small part of the backyard of the house? This is one of the best backyard pavilion ideas that I would like to recommend. The design of this outdoor pavilion looks really simple but very nice at the same time. As you can see, there is enough space for several people to sit around and enjoy all the occasions. A fireplace will keep everyone warm, and that means this pavilion is ideal for any time of the year. I like the fact that there is space for a TV that you can enjoy watching the games altogether. This backyard pavilion idea saves your space while offering a great place for gatherings. You really should consider this one, its timeless design will never go out of style.
Idea 1.10. Urban Backyard Pavilion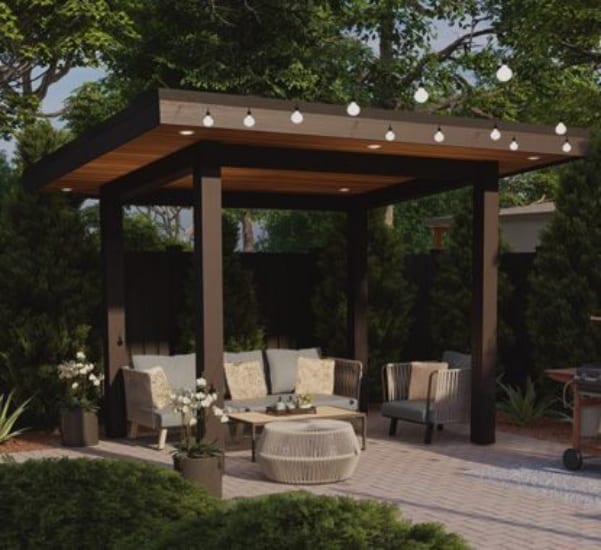 This is a combination of a traditional gazebo and pavilion with a unique twist that you might like. It stands out among the rest of the backyard pavilion ideas above because it features a low-sloped roof and a streamlined look. The special part is that this combination makes the pavilion looks great for many modern backyards out there. Just add some lights and probably some vintage furniture, and the whole pavilion will surely look stunning. It does not take up a lot of space, and it is perfect for a small family or group of friends. With both sophistication and style, this could be your most favorite backyard pavilion idea.
2. 10 Modern & Relaxing Poolside Pavilion Ideas
Depending on your preference, a perfect pavilion does not have to be in the backyard. Some people love to have their pavilion by the pool so that they can chill comfortably and elegantly in summer. What I like most about a pool pavilion is that it makes an amazing station, especially when you have pool parties. In case you want to build your pool pavilion to host parties, there are some good ideas below as well.
Idea 2.1. Bamboo Roof Pergola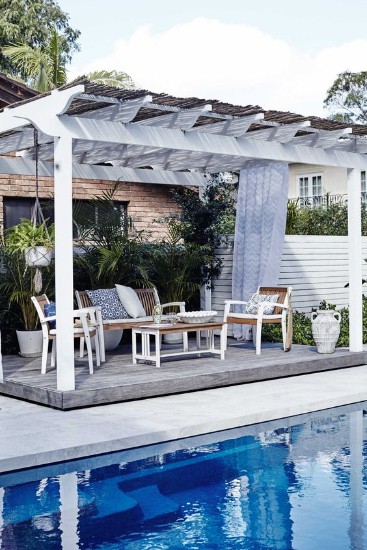 A pergola always looks astonishing by the pool, and you can get creative with it easily as well. This is a nice example of turning a minimalist pergola into a unique minimalist pergola. Adding some bamboos to the roof does not only create some shades but also transforming the atmosphere of the pavilion. Plus with the Mediterranean pillows, modern-looking furniture, and curtains, the entire place looks extremely gorgeous with a cool summer vibe. You can also add some plants to create a natural feeling, and you will surely love how it turns out.
Idea 2.2. Cabana Pavilion
Many poolside pavilions feature the cabana design since it often hosts celebrations and parties. The great thing about this idea is that it has the combination of a mini bar and a mini restaurant. Your guests or family members can choose to sit either by the bar or in the center of the pavilion. It is spacious and sophisticated, and it looks absolutely amazing by the pool. The design is not complicated, but it looks exquisite which is why I recommend this one. If you find it gorgeous like I do, you should definitely go for it.
Idea 2.3. Freestanding Poolside Pavilion
This is another cabana poolside pavilion that the Ironman himself visioned, so you know that it is extraordinary. Robert Downey Junior wants his poolside cabana to be both a bar and an outdoor living room. And this is why we have this magnificent and sophisticated pavilion here. Every single component looks great together, from the chaise lounges to the large TV. The best part is that there is something for everyone, the long sofa, the hanging swing chair, and many more. People will be able to enjoy not only the aesthetics of the pavilion but also the comfort that it delivers. If you are a fan of Ironman and want to have the same poolside pavilion like his, this is the one.
Idea 2.4. Large Poolside Pavilion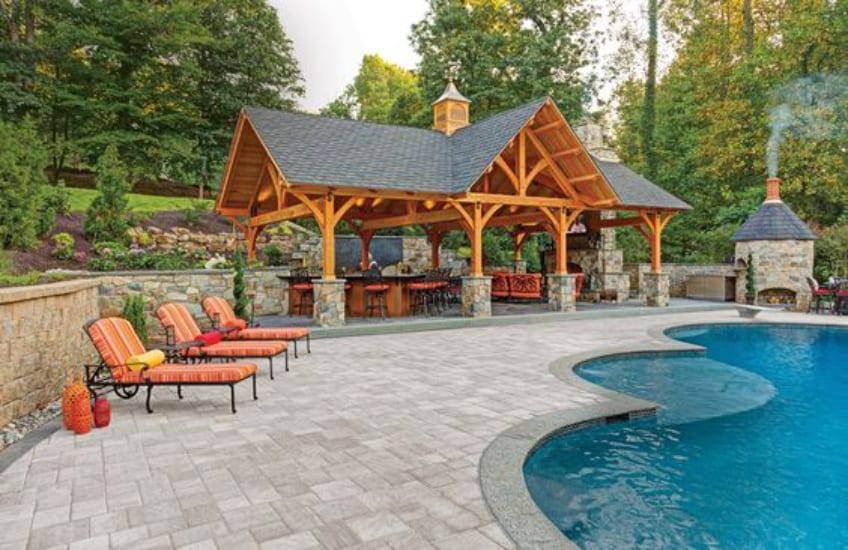 When you have a large space, it is only rational to go big with the poolside pavilion. By the size, you can tell that it can easily house a big party by the pool with style. A generous space like this is ideal for many different celebrations that involve a lot of people. So if you often have gatherings or parties, this is the direction that you should head to. The wooden design also complements the areas around the pool with style, but the material is up to you actually. Inside the pavilion are a mini bar and an area in front of the fireplace for watching TV. Maybe you will like it, this pavilion idea is one of a kind.
Idea 2.5. Mini Pergola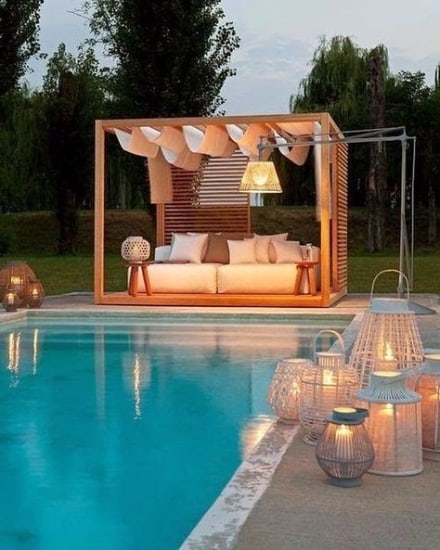 It does not have to be big to be modern and relaxing, and this mini pergola is a perfect example. One of the amazing things about this poolside pergola is that it is very cozy while looking elegant. This is because of the roof design that brings out the aesthetics and style of this mini pavilion by the pool. Along with that, the couch and pillows make everything looks so comfortable even at a glance. Plus with the lights and the view of the pool, you can enjoy sitting there for hours. This design is also great for a small pool because it does not take up too much space. The furniture and materials are also easy to find, but that is up to you.
Idea 2.6. Mini Pool House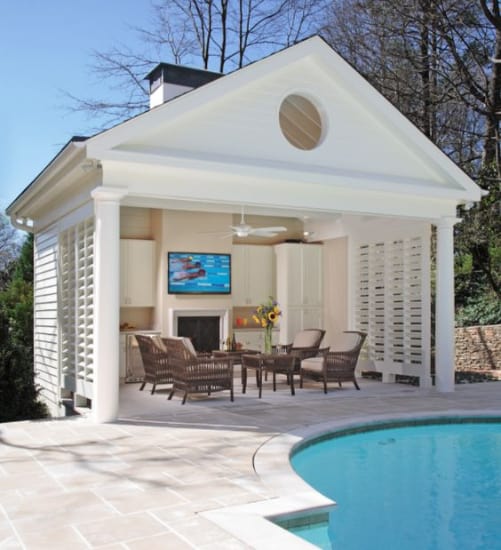 I am one of those people who prefer the fresh air outside instead of sitting in the house all day long. This is why I would like to suggest this poolside pavilion idea right here to you. I call it a mini pool house because it has almost everything you need from the house. This mini pool house has a cozy space for sitting along with cabinets for storage, a mini cooking station, and a TV. That way, you will be able to enjoy sitting outside for fresh air while having the important things you need. The design of this poolside pavilion is to make sure that you are comfortable without going back and forth to fetch things. It is a clever idea to execute, what do you think?
Idea 2.7. Open Air Pool Cabana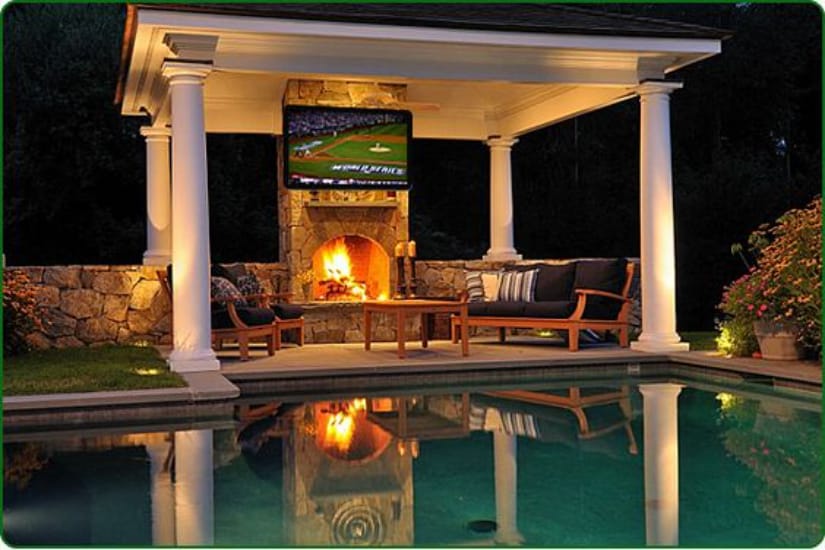 Who knows that 4 pillars and a roof in all-white color can be this sophisticated by the pool like that? This is a great poolside pavilion idea that you can have in mind if your poolside space is small. It is ideal for a few people to enjoy the drinks and nights while watching the game by the fireplace. Or, a great outdoor pavilion to chill on sunny days in summer when you want to go for a swim. Despite being small, this poolside pavilion is actually perfect for any time of year. From fresh air to a relaxing atmosphere outside, it provides them all for you. Let's see if this one has something that attracts your attention.
Idea 2.8. Open Air Pool Pavilion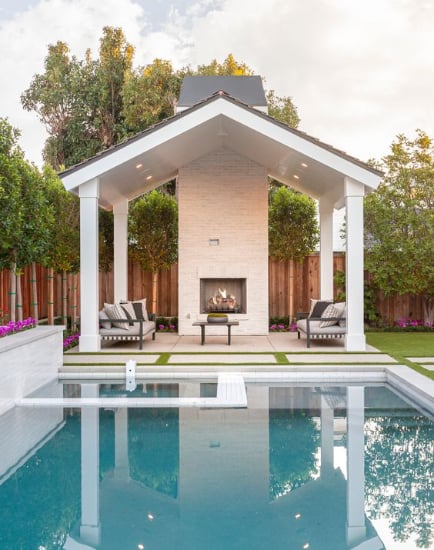 By the look, you can already tell that this open air pool pavilion is the definition of "less is more?. There are very few pieces of furniture, and it has a fireplace, but the whole place still looks very comforting. Not to mention that it is actually ideal for any season in the year, this pool pavilion is super nice. It makes a cozy space to just relax and enjoy the surrounding atmosphere and the view of the pool. For those who don't visit the pool much but want to sit outside sometimes, this is the idea for you. In case you want to add some more items in the future, there is so much room for that. Cozy and nice, maybe this is what your next poolside pavilion will look like.
Idea 2.9. Outdoor Poolside Pavilion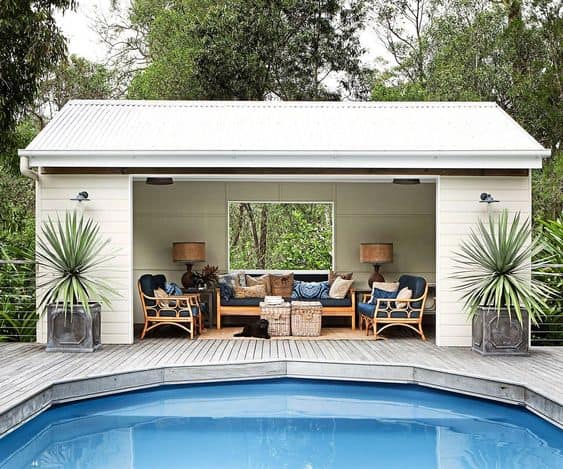 The design of this poolside pavilion makes it perfect for parents who want to stay in the shade while watching the kids swimming. Not just that, but also for those who want to sit cozily by the pool on hot sunny days too. This outdoor poolside pavilion looks similar to a mini beach house but more modern. You can use the middle space for furniture so that you can see the view of the pool while sitting. Along with that, the side spaces are ideal for pool items storage which is a total plus. You can easily grab the floaty and other swimming gear right from the pavilion. It looks great, and you may want to consider this one.
Idea 2.10. Patio Pavilion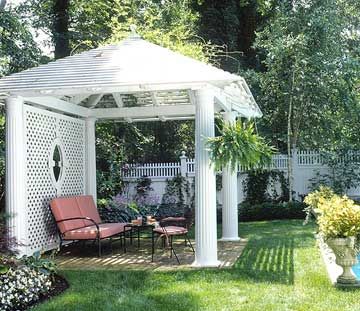 This patio pavilion is perfect for those who go, "I want a roof but I don't want the shade?. It makes a nice and relaxing spot that you can absorb the sun on sunny days near your swimming pool. The slat roof of this patio pavilion still allows the air and sunlight in, and you might like that. At the same time, the open air design also provides sufficient ventilation from all directions around you. It can accommodate a couch and a table, and it actually looks pretty nice. If you think it is interesting, you should definitely go for it.
Wrap Up
Pavilions always add more taste to your home, no matter where their location is. With so many designs and ideas to choose from, I am sure that picking the best one won't be difficult. I make sure that I only selected the pavilion with the modern design that brings out the style for you. So I hope that at least one of them will inspire you with the idea for your pavilion.