Outdoor gardens require extra protection from critters and pests to avoid damages, and building a fence is the solution. So we are going to see some cool and easy DIY garden fence ideas that you can put up at home. Depending on the size of your garden, each design that I recommend looks different to match different people's styles and preferences. I scoured the internet to find just the best DIY garden fence ideas that may be interesting for you. Feel free to take a look and see which idea among the 15 that you like the most.
Idea 01 – Bamboo Garden Fence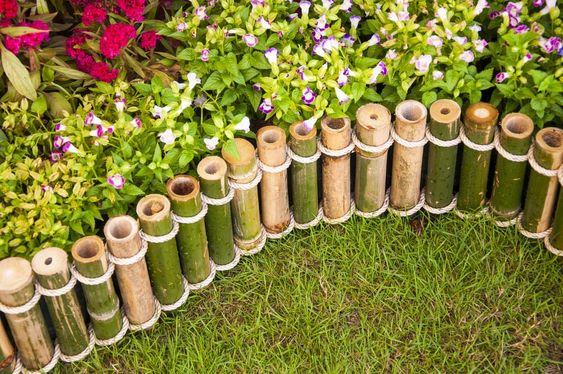 Bamboos are one of the materials that you can easily find from the local stores, and they are inexpensive as well. This DIY garden fence idea is more for decorative purposes because you will have to cut the bamboo into short pieces. That means it is not to keep critters away, so it is ideal for a critter-free sort of garden. As you can see, the design makes a lovely compliment to a flower garden with various colors. Another way to use bamboo to build a fence is by choosing the slender ones. Use those longer and slender bamboos to construct a fence instead of wood is also very nice. It looks unique but charming, and it is also easy to put up.
Idea 02 – Criss-Cross Slate Fence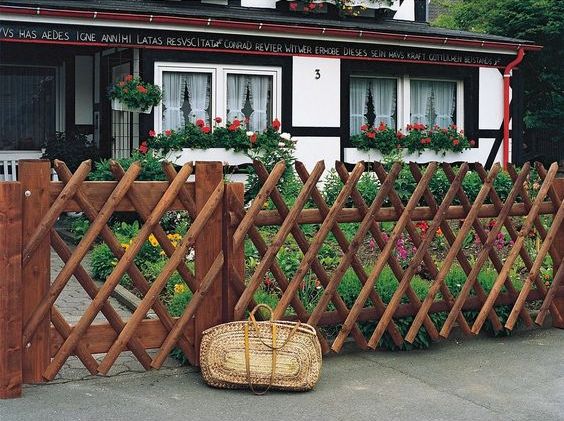 This DIY fence idea simply kills two birds with one stone, it is a fence for both the garden and the house. The best part is that this criss-cross slate fence design makes a great compliment to anything. I definitely recommend this DIY fence idea if you have a mini garden in front of your house. It protects the garden from animals like deer or dogs, and people can still see the beauty of your plants. The color of this idea looks nice, but you can also pick your own favorite to match your home and style.
Idea 03 – Deer-Proof Garden Fence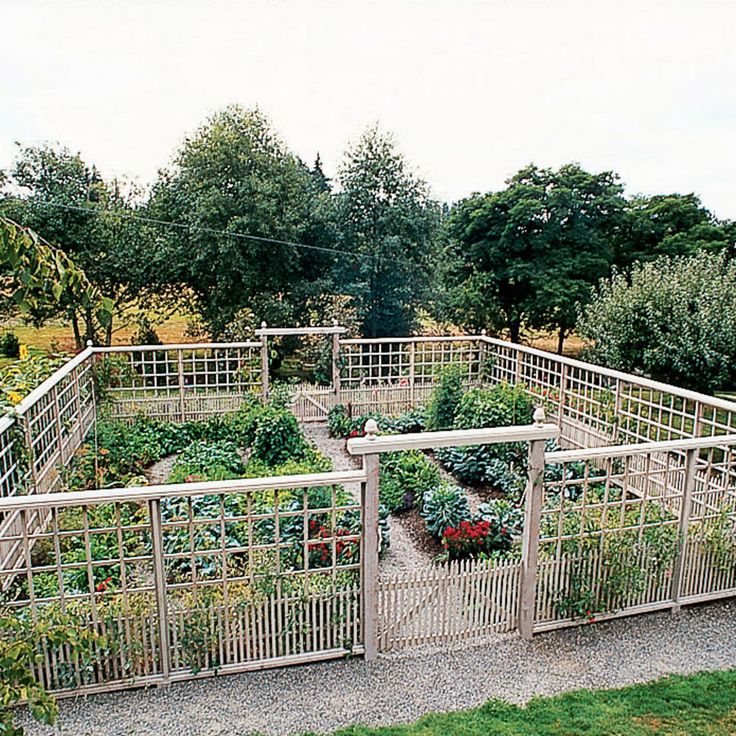 Hats off to the builder of this fence because it is a beautiful garden fence that is so pleasant to the eyes. If you look closely, you can see that there is a double design in the structure of the fence. The inner fence has a grid design that allows for proper sunlight and ventilation to the plants inside. Meanwhile, the outer fence is denser so that it can provide another layer of protection from smaller critters. This fence idea does not only deter deer but also rabbits and rodents. If you have a garden of similar size, this is definitely the design to take into consideration.
Idea 04 – Garden Enclosure
Building an enclosure for the garden is another protective way to keep animals out of your garden. The main thing that I like about this garden enclosure is that it keeps critters out from all angles. All sides have mesh walls that prevent smaller critters like rabbits and rodents from making their way inside the garden. What I suggest, if there are birds or squirrels in your area, is to add a mesh roof on top. This is to ensure that the only things that can get in your garden are air and sunlight. Home Depot is the owner of this idea, and of course, there is a complete guide that you can follow. You can check the video below for more details, they are so easy to follow and understand.
Bonus Video on DIY Garden Enclosure:
Idea 05 – Large Garden Fence
For those who need to build a big fence for a big garden, then check out this idea from Anne Of All Trades. I know that this DIY garden fence is going to take a lot of time, but its final result is incredible. However, you won't need a lot of materials besides the horse panel sheets and wood. And of course, you will need some other tools like bolt cutters, a hammer, and a shovel. I would say Anne might make this project looks so easy, but it is not difficult for those who love to DIY things. You can check out how she built this large garden fence here, let's see if you will build it.
Bonus Video on DIY Large Garden Fence:
Idea 06 – Mesh Fence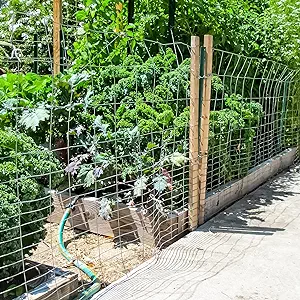 A garden fence of this height can safely protect your plants and vegetation from rabbits and other rodents very well. It looks very neat, and the best part is the mesh design that prevents anything from going in. I like how it looks good for both small and big gardens because its structure is very versatile. This is a simple DIY garden fence project that you can easily do at home, and it doesn't cost much. All you need are some mesh and wood, and it is not complicated to build.
Idea 07 – Metal Garden Fence
This is not exactly the "DIY" idea that I have in mind, but it actually looks pretty nice. It is still a DIY since you will have to set up the pieces, and it saves your time too. A metal garden fence is an ideal option to take into consideration when you want to have it long-term. Most metal fences come with a beautiful and classic design that looks great in a different atmosphere. I like this idea because it also protects critters or pets from entering the garden too. And most importantly, you can use it for years without worrying about it being damaged by animals. So when regular DIY garden fence ideas don't have what you like, maybe this idea can be one.
You can find some of the top-grade metal garden fence here:
Auto Amazon Links: No products found.
Idea 08 – Modular Garden Fence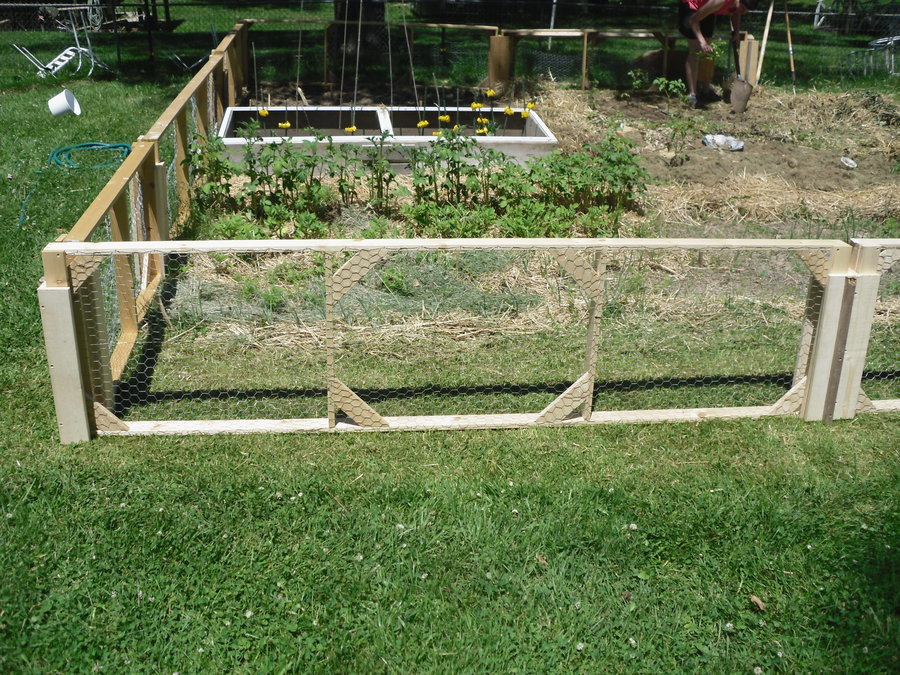 DannyBoy built this modular garden fence by recycling some wood that he had, and it turned out very nice. And if you also have some chicken wire and wood, you are ready to build this garden fence. It took him quite some time to prepare everything, but it was actually easy to put together. Because all you need are just chicken wire and wood, you can design it in your own style too. But if you like the look of the fence that he built, following the steps is pretty easy.
Idea 09 – Panel Critter Fence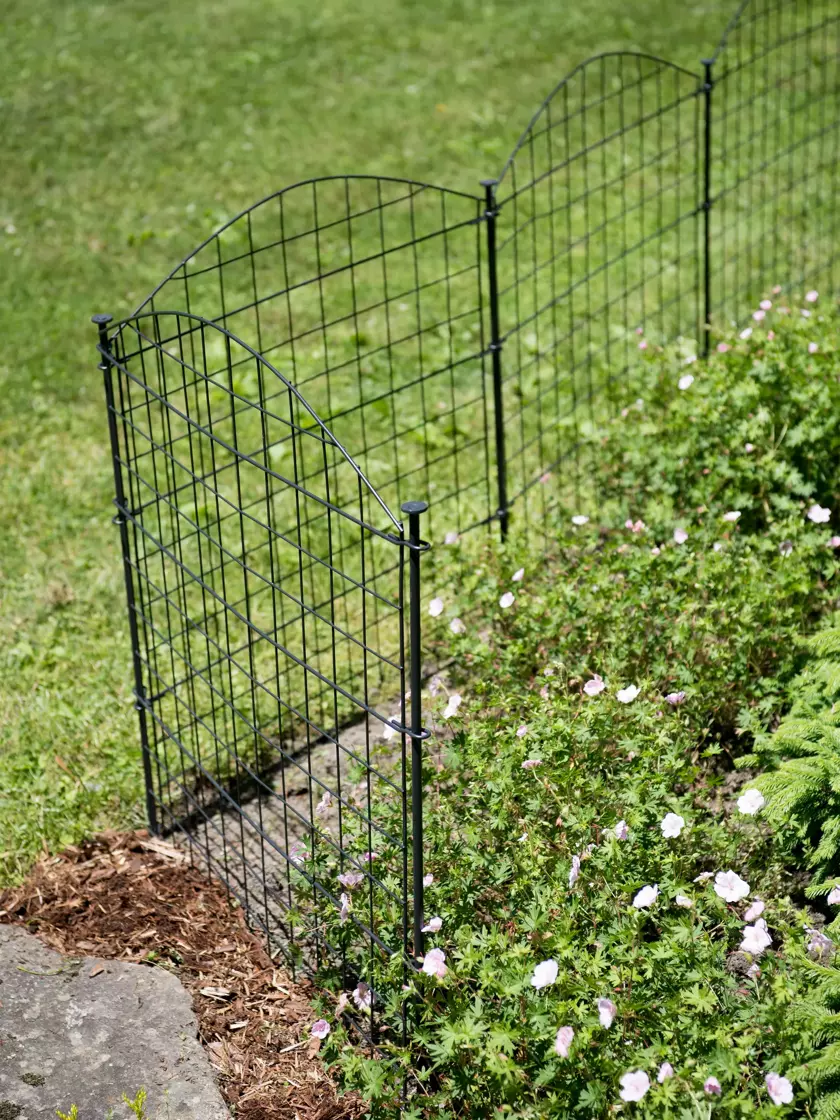 Simple and small yet protective, this panel critter fence is a very cool garden fence idea to try. I highly recommend this option for individual plants that you grow like cabbages or watermelon. To make the fence durable and sturdy, make sure you bury it deep enough in the ground. This is to ensure that no animals can dig through or make the fence collapse. You can find this kind of fence at your local store or online, and its price is also reasonable.
These are some of the Panel Critter Fence you can purchase:
A picket fence is one of the easiest DIY garden fence ideas that you can build at home. When I saw Simon built this fence in his front yard, I knew that it would look great as a garden fence too. A wooden picket fence is not only easy to construct but also economical because the price of the materials is very affordable. You can go as big as you like, and it is very simple to be creative with this project. Simon provides details in everything that you need to know about building a picket fence. To make things easier, you can check out his video below for a step-by-step guide.
The YouTube video below can guide through the ultimate process of installing Picket Garden Fence
Idea 11 – Raised-Bed Garden Fence
In case you look for a DIY garden fence idea for your raised-bed garden, this can be the one. What I would do differently is that I would leave some space between the bed and the fence. So when leaves from the plants start to grow, they won't peek through the holes of the fence and become snacks for critters. Apart from that, this fence looks great overall. Its height can keep any animal from jumping in, and there is a roof on top as well. This fence is easy and fast to build, and its level of protection is also reliable.
Idea 12 – Raised-Bed Garden Mesh Fence
So simple yet effective, this is an easy DIY garden fence idea that you can build in less than 20 minutes. With some large wooden sticks and mesh that you can get at the local store, and you're done. Even if you are busy or not crafty, this fence idea is still ideal for you. Another thing that I like about this mesh fence is the fact that it is inexpensive to make. It may look fragile in the picture, but you can get larger wood sticks to make it more stable and sturdy. The idea is to keep critters like rabbits or maybe chicken if you have any from eating your plants. You can be so creative with this idea, so let's see if want to try it out.
Idea 13 – Raised-Bed Garden Mini Fence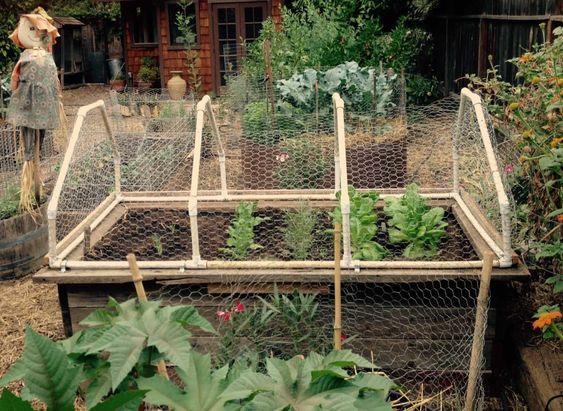 And if you don't want to go too big like the previous raised-bed garden fence, this is the one. I also like this design because it is very compact and space-saving while using less material. This mini fence is more like a cover of the raised-bed garden, but it can still protect everything inside. As you can see, you will only need some chicken wire and wood to create this barrier. It can protect your plants and vegetables while allowing sufficient airflow and sunlight to go through. This is a wonderful DIY garden fence idea if you have multiple raised-bed gardens far from each other. I also think it is the best idea for a community garden where people grow their products separately.
Idea 14 – Vinyl Fence
I came across this fence idea when I was looking for a vinyl gate, and I think you might like it. This garden fence features the classic garden look that is clean and neat while keeping unwanted animals out. You can get some wood to build it with this style or simply buy it online. It is a nice garden fence that you can put up by yourself in just a few hours. The one you can buy below is durable and weather-resistant, and it is easy to install.  Affordable price and time-saving, this can be your next favorite garden fence.
Idea 15 – Wood Pallet Fence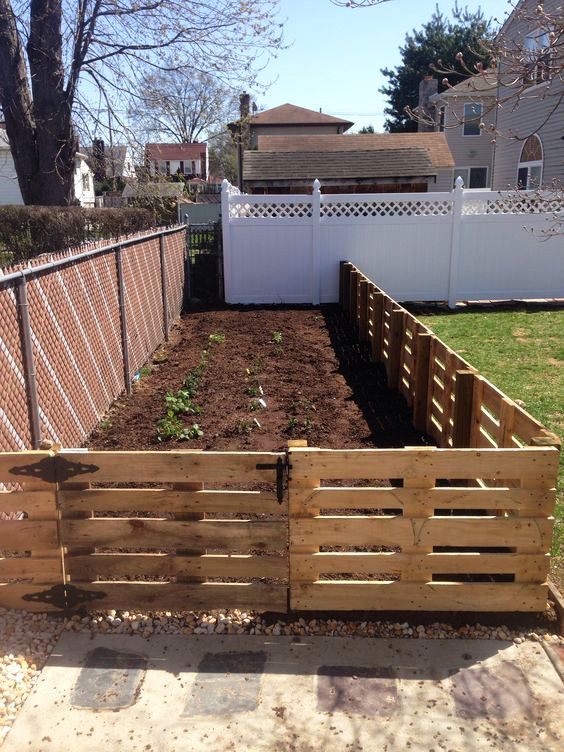 For those who don't like tall fences but want to divide the space between the garden and yard, check this out. This pallet wood fence is very easy and fast to build, and all you need are some nails and wood pallets. I like how clean it looks, and it also serves as a protector for your plants from critters too. The gap between each pallet is tiny so no rabbits can go through it at all. It has a combination of both modern and vintage, and it looks great in the yard too.
Bonus: Classic Wood Gates
In case you like things to be simple, then the type of garden gate to go for is the gate style. This design never gets old, and it is a charming complement to both the garden and home. You can build your own gate with the gap and height that you prefer, and it is very easy. The awesome part is that it is cheap and fast to construct this type of fence. It is durable and sturdy, and it is ideal for both big and small gardens. So if you like none of the DIY garden fence ideas above, maybe a simple idea like this one will do.
Conclusion
With 15 different DIY garden fence ideas above, I hope you have a few things in mind for your garden fence. There are so many other ideas available out there, but the easiest yet simple ones are here. Building a garden fence can be quite challenging if you are new to it, but it is only the beginning. Start small, and you will be able to go bigger later. This is why I picked those ideas above to recommend today. Don't forget to share your thoughts on which ideas you think are the best.