A lit party is incomplete without a dance floor, and here is how you can build one at home. So why do I suggest that you are building your own dance floor instead of renting it from rental companies? The price is at least $700 for a decent size, and you can only use it once. You will be able to save a lot of money while having your own dance floor at home for the next parties. It could be a little challenging, but making a dance floor is so worth it.
1. Materials You Need To Make A Dance Floor:
6 sheets of ½ inches plywood
6 mending plates to join the pieces together
Nails and hammer
Painters tape, floor paint, and painting supplies of your choice
Thirty 8-foot long 2×3's, and cut 18 of them into two 45-inch pieces. I recommend buying them at Home Depot because they will cut the pieces for you for free.
Plywood is durable and easy to find, and it can handle the weight of multiple dancers without breaking. The materials that you get above will result in a 12×16 dance floor, with 6 sections underneath. This size is enough to accommodate at least 10 dancers at a small party at home with style. You can also get more plywood sheets if you want your dance floor to be bigger as there is no limit.
2. 4 Steps in Making A Dance Floor
2.1. Step 1: Build The Base
The base is the lowest part of the dance floor, and its role is to support the floor and the people on it. You want your base to be as strong and tough as possible, and building one is not so complicated. Use the 2×3's to create 6 frames that measure to 4 feet x 8 feet. Then add 4 support pieces to each frame between each of the frames that result in a ladder look. Once you have a sturdy base, then you can move on to the next step.
2.2. Step 2: Create The Floor
I mentioned that you need nails and a hammer, but you can also use screws if you prefer them instead. In this step, you will need to nail or screw a sheet of plywood to the top of each frame. Make sure to nail or screw it across the support pieces and along the edges as well. This is to create a very supportive base that can handle several dancers at a time during the events. Repeat this step with all your plywood sheets until you get 6 dance floor pieces. When you finish this step, you will have large pieces that you are going to put together in the final step.
2.3. Step 3: Paint The Dance Floor
An attractive dance floor should be colorful so that it stands out and looks appealing to the guests. This step actually depends on your preferences when it comes to the color options for the dance floor. My only recommendation is to use high-quality floor paint so that it will not fade or come off easily. You may apply two layers of paint to secure the color, but make sure to let it dry between each layer. Then finish the look with weatherproof paint so that its appearance remains bright and pretty long. The weatherproof part is important if you are going to leave your DIY dance floor outside.
Another trick to make your homemade dance floor looks like a professional one is applying vinyl floor sheets. This is an alternative to paint in case you don't have time to do or wait for them to dry. Vinyl sheets come in a wide range of colors and patterns that you can choose from, and the process is fast. Bear in mind is that no matter if it is paint or vinyl sheets, always apply a non-slip finish. People who come to the parties wear heels, and slipping while dancing with those shoes is not safe. Safety is important too, so don't overlook this part.
2.4. Step 4: Secure The Dance Floor
The final step is to secure the dance floor after you finish with the decorations and designs. Simply position your DIY dance floor at the location that you select then use mending plates to secure the pieces together. Look for the area where each piece joints and place your mending plates there, and you are good to go. Once everything is in place, your homemade dance floor will be able to handle all types of dance right away.
2.5. Bonus
Besides building your own dance floor using plywood, you can also recycle pallets to create a dance floor as well. The final result is also nice, and it is even more economical than using plywood sheets. So if you have some pallets lying around, then it is time to build a dance floor from scratch. There are only 4 simple steps to follow, so feel free to check out Our Children's Earth for the details.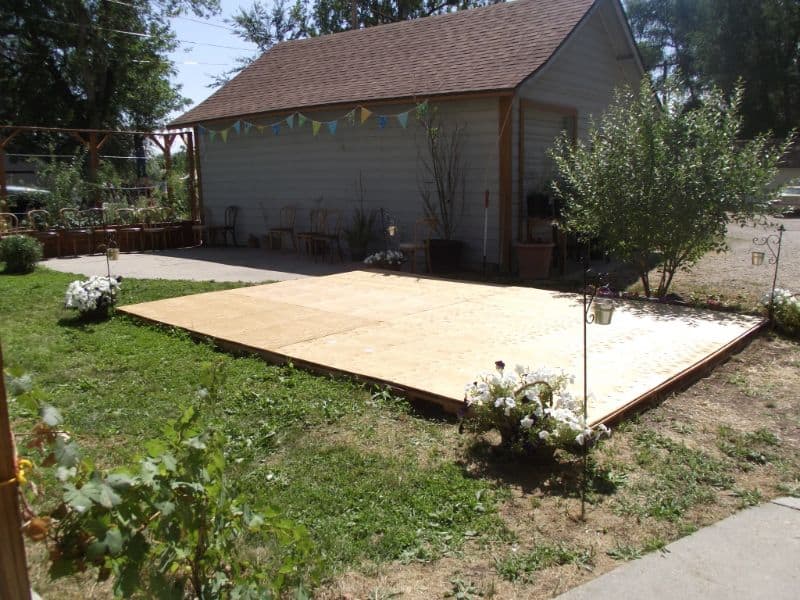 3. Outdoor Dance Floor Accessories
Once you have your homemade dance floor, you will also need some accessories to decorate it. You can easily get creative with your outdoor dance floor, and making it look nice and cool is so simple. I want to recommend some of the best accessories that you can use for your homemade dance floor. Some of them are for the whole venue in case you have parties, and they may come in handy. Let's take a look and see which ones that you think are the perfect match for your theme.
3.1. Canopy Tent
For those who start the party during the daytime or have trust issues with the weather, add canopy tents. This type of tent creates a nice look while keeping your guests in the shade on sunny days. In case it rains, no one will have to worry about that as well. Canopy tents for a dance floor come in a wide variety of designs and sizes that you can choose from. The key is to pick the ones that match best with your dance floor, tables, and settings. If you need to cover a large area, then you might need to get more than one canopy tent. This item is a little pricey, but you can always reuse it for many outdoor occasions.
3.2. Fences
When you have a party or wedding outdoor, it is nice to add some sort of entrance. Fences are one of the easiest and simplest things that you can find, set, and reuse for other purposes. There are also many fence designs and types available for you to choose from, especially on the internet. It does not have to surround the whole area, just for the entrance will do. Then you can add some flowers in front of the fences as a final touch, and that is it. This idea makes the whole venue look absolutely gorgeous, even if you do it outside.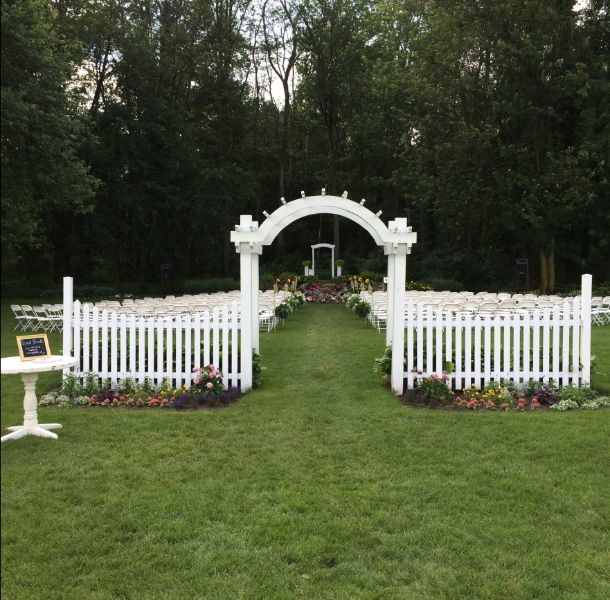 3.3. Lights
Lights are a must-have because it adds a lot of charm and taste to the whole area as the sun goes down. There are many types of lights that you can choose for your parties, but the best ones are here. Each light option below is not only pretty but also ideal for any occasion throughout the year. Let's see which one among them suits your preferences the most.
3.4. Disco Ball Lights
You don't have to invest hundreds to get cool lights to your parties. This is why disco ball lights are great for you to choose from since they offer fun at an affordable price. The special thing about disco ball lights is that they display a number of lights that add more taste to the parties. There are also many effects that you can easily choose from with a simple press on the remote control.
3.5. Ground Lights
As for this type of light, it is a perfect option for outdoor use. Ground lights are solar-powered, and they automatically light up when the sky gets dark. You can easily install them around the dance floor or along the entrance to the dance floor. They are compact yet very bright, and they look very cool and nice. The best part is that these lights are durable and weatherproof so you can leave them outside with zero worries. After the parties, you can install them pretty much anywhere in the garden and lawn.
3.6. LED Flood Lights
Want to go big? Then get a set of LED floodlights, and the party in the house will be the memory that you will always remember. The incredible thing about this type of light is that it is so bright and colorful with different illumination styles. On top of that, you can easily control all the colors and modes using just one remote control. You can be your own DJ, and the lights from them make things so much cooler.
3.7. Light Bulbs
Light bulbs are beautiful, and they bring out the aesthetics in the settings and themes with style for any occasion. Besides parties, you can also use them to decorate your house at Christmas and other events as well. The best light bulbs should be bright and durable with dimmable and lighting options that you can change. From home and patio to other indoor and outdoor decorations, light bulbs are ideal for them all. Since you are also going to need them for festive events, it is always a good idea to get some.
3.8. String Lights
The classic string lights are smaller than light bulbs, and they are easy to store after use. On top of that, they also make a great match with light bulbs in case you get both. String lights are more compact so that you can attach them to pretty much any object like poles, trees, and more. When it comes to string light options, the choices are endless because there are so many of them. The key is to choose the ones that are durable and waterproof so that they are long-lasting and safe to use. Another important thing to have in mind is the lighting modes that you can easily adjust. The more lighting mode, the better because it makes the whole theme look nice.
3.9. Sheer Curtains
No matter if it is a wedding party or a regular party, sheer curtains along the dance floor always look nice. It brings this soft yet elegant touch that makes the whole settings look calm and welcoming. After the event, you can simply bring them back and use them in the house. There are many colors available for sheer curtains, but white is always one of the most common and popular options.
3.10. Wedding Arch
Specifically for weddings, a wedding arch is a must-have item for the entrance to the dance floor. If you choose right, you can also reuse the arch for other events like birthdays and more as well. The only thing that you need to change is the decoration on the arch, and the theme will change. I recommend this item because it is actually inexpensive, and it brings so much class and style. If you have a dance floor, it is only right to give the event an arch too.
4. DIY Dance Floor Ideas
You know that you can build your own homemade dance floor at home, but what about the design? Since it is not easy to achieve, there are some easy and nice DIY dance floor ideas that I want to suggest. Each option below is affordable and time-saving, and it won't take long to do at all. Maybe one of them matches your interest, so feel free to check them out.
4.1. Black Starlight Dance Floor
To achieve this super cool design, you will need to purchase a dance floor then connect it to the lights. This is a very easy DIY dance floor idea to execute, and there are also many different looks available. I agree that this one is a little pricey, but you get a super cool dance floor for years. There are also different dance floor kits that you can purchase to get a different look as well. The installation process is also very easy and simple, and below is the video that shows you how.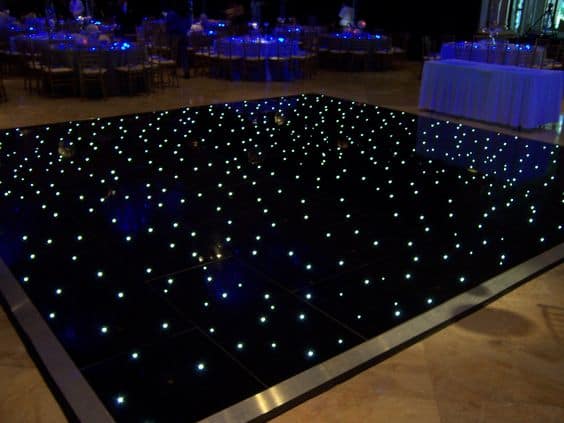 4.2. Checkered Dance Floor
When you look for DIY dance floor ideas, this checkered black and white design will always pop up. It is the classic design that is very easy to achieve while looking nice in all settings. No matter if it is a wedding or any type of party, this design matches them all. You can either paint the dance floor to get this look or apply stickers for a faster result. Either way, the final look is always cool and nice in the end.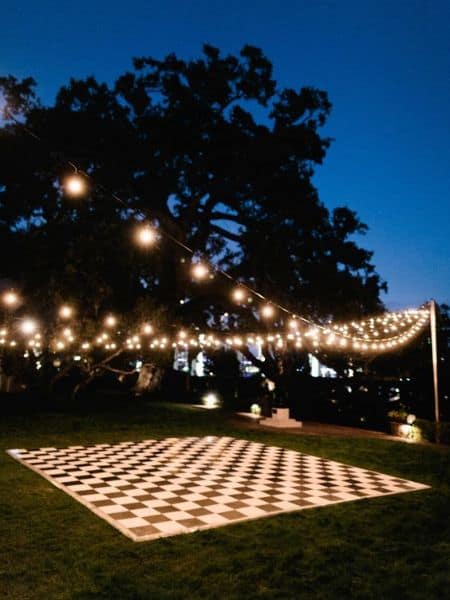 4.3. Gloss White Dance Floor
Less is more, and the gloss white dance floor looks very nice both indoor and outdoor. The minimalist appearance makes the entire dance floor looks elegant and tasteful at the same time. On top of that, it is also very easy to do since all you need is some glossy white vinyl sticker. I recommend gloss white because it shines when the lights hit, taking the dance floor's style to the next level. This is just a suggestion, but the glossy dance floor looks great in pretty much any color. Depending on your preferences, the color choices are all yours to decide.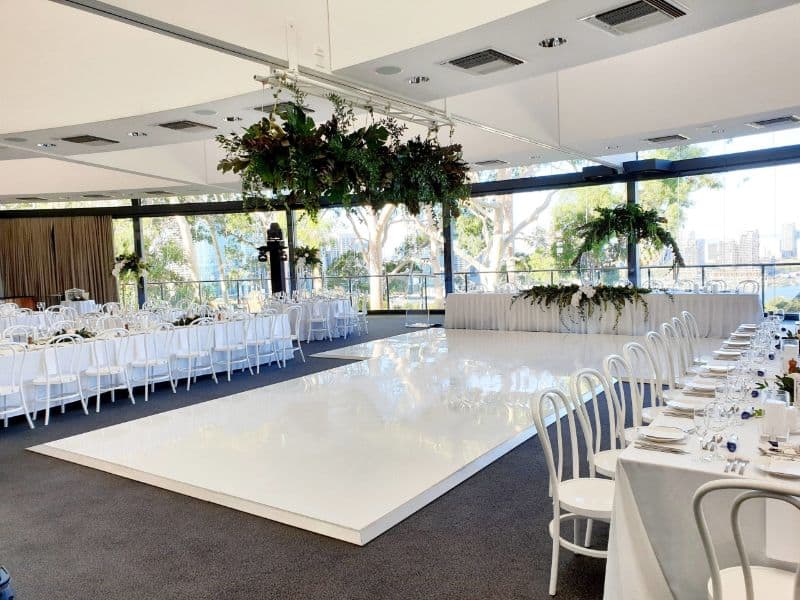 4.4. Glow-In-The-Dark Dance Floor
Style is one thing, but having a cool dance floor that glows in the dark is a whole new level. Even better, it is very easy to create your own glow-in-the-dark dance floor at home. All you need is some neon stickers or tapes that glow in the dark, and you are all set. Simply stick them to your dance floor, and watch it rock when there is no light. This DIY dance floor idea is perfect for many parties, and you will surely like it.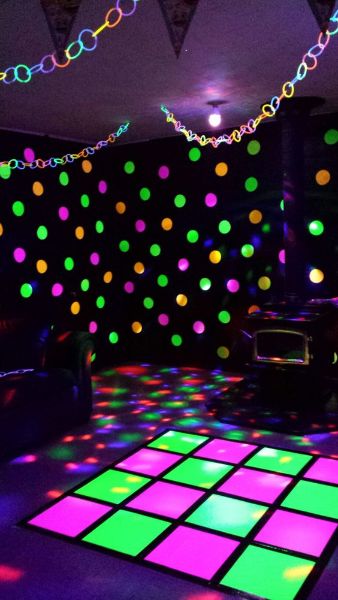 4.5. Mandala Dance Floor
The cool thing about the mandala dance floor is that it looks uniquely attractive and elegant. There are many colors and patterns of mandala that you can choose from, and the installation is so easy. All you need to do is get the mandala stickers and apply them to your dance floor, simple as that. You can apply the entire dance floor with the stickers or choose the large one for the middle. Either way, it looks very nice while taking just a few minutes to achieve.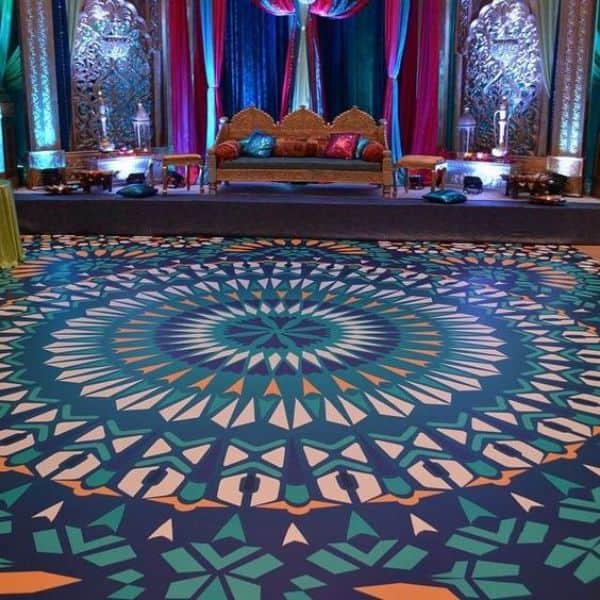 4.6 Marble Dance Floor
The marble dance floor is absolutely gorgeous, and creating one is super easy and simple to do. You can look for marble floor stickers on the internet with the colors and patterns that you like. There are so many choices to choose from, and they are all uniquely beautiful in their own ways. Then apply them to your dance floor, and the final result will be so satisfying to look at. The special thing about the marble floor is that it never goes out of style while looking amazing in any theme. From weddings to other occasions and parties, marble looks great with them all.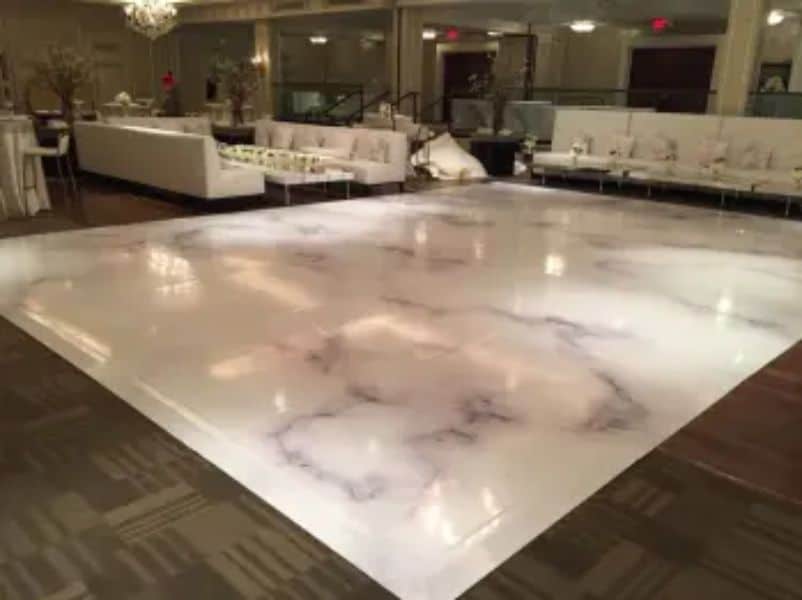 4.7. Wood Dance Floor
In case you don't like the colors or other complications in decoration the dance floor, then stick to the simplicity. A wood dance floor looks nice and vintage, and it also goes well with many occasions and settings. Some people paint it while others apply stickers because it is easier and faster. When it comes to the wooden design, there are many different patterns and shades of colors available. The decision is all yours, and you can always change it to something else since wood is a neutral color.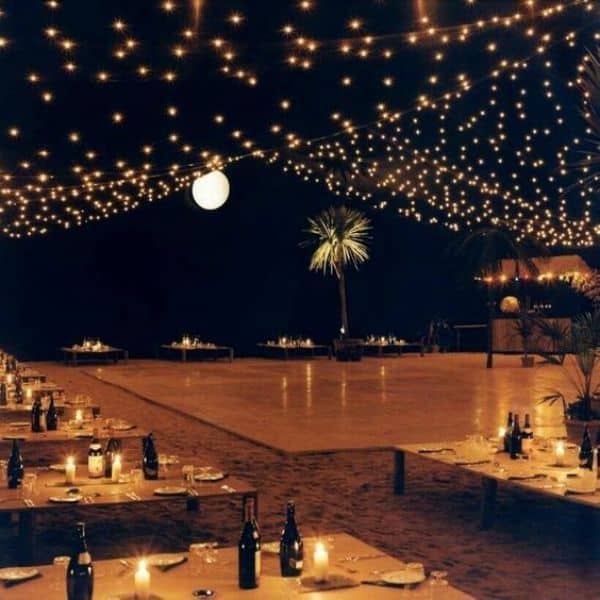 5. Best Portable Dance Floor Review
Does a portable dance floor exist? Of course, it does, but the size is smaller, which is not ideal for multiple people to use at once. You can, but you will have to purchase multiple sets to build a large dance floor. A portable dance floor is rather for indoor dance practice for both kids and adults to use at home. Many people have also emailed me to talk about this, so I am going to add a short brief below. You will find the 5 best portable dance floor options, and the decision is all yours to make.
5.1. Solid Teak Portable Dance Floor & Flooring
By: Mammoth
The versatility of this floor allows you to use it as both a dance floor and a regular floor outdoor. Each piece is made from durable and high-quality teak wood to ensure great support for years of use. You can easily connect the pieces together thanks to the interlocking design that they come with. The assemble is convenient and fast since all you need to do is snapping each piece into each other. Then they will connect to each other tightly without coming off easily at all. That way, you can trust that the floor remains intact together no matter how hard your parties get.
As for the quality, they are not only durable but also tough to have for long-term use. One of the things that I like about this portable dance floor is that it does not slip. The anti-slip wood grain ensures that there won't be any slipping accidents during the dancing or walking. Along with that, all pieces are water resistant which reduces the chances of slipping as well. The color is solid, and there are several color options that you can choose from. This option comes with both good price and quality, and you might want to check it out.
Main Features:
Fade-resistant and rich color
Crack, shear, and warp resistant
Anti-slip and water-resistant material
Easy and fast interlocking installation
Versatile and ideal for both indoor and outdoor applications
5.2. Portable Dance Floor Tiles
By: Soozier
Here we have one of the best portable dance floors that you can use pretty much anywhere you like. The design of this dance floor allows you to set up both indoor and outdoor as long as the ground is smooth. At the same time, dancers of any level can use it comfortably and conveniently without a problem. The surface is sturdy and supportive, and it does not cause slipping at all which is also very safe to use. Another awesome thing about this portable dance floor is that it can withstand the weight of an adult dancer. The shock-absorbing and sturdy qualities ensure that the dancer can practice and dance to his/her content every time.
When it comes to the portable property, this dance floor is clearly among the best. It is not only lightweight but also easy to assemble and disassemble before and after use. Along with that, it is also water-resistant and wear-resistant to ensure long-lasting performance and quality. Plus, with the compact size, bringing it to places and storage is a simple thing to do. This portable dance floor is ideal for both beginners and pro dancers of all ages. Cleaning and maintenance are also easy and simple, making it one of the best portable dance floors. It has everything a high-quality portable dance floor should, so don't forget to check it out.
Main Features:
Lightweight and portable
Easy to assemble and disassemble
Anti-slip, shock-absorbing, and sturdy
Durable, water-resistant, and wear-resistant
Ideal and suitable for both indoor and outdoor
5.3. Thick Portable Practice Ballet Floor
By: IncStores
As for this one right here, it is a portable dance floor that you can use for ballet practice. However, you can also use it for flamenco, tap dancing, and more since its design is very versatile. The unique thing about this dance floor is that it is very sturdy and supportive of the practice. Thanks to the ultra-resilient polypropylene material, the whole unit is very durable and strong. It is not only supportive for the weight of the dancer but also safe to use during the practice as well. The setup process is easy and simple, and it takes only minutes to assemble the whole thing.
While looking large and sturdy, this portable dance floor is actually lightweight to ensure easy portability. In fact, it is only 1 pound per tile so bringing it to different places is also very convenient. I really like the available options of the number of tiles that you can choose from. It starts from 1 tile to 52 tiles, depending on how big you want your portable dance floor to be. On top of that, there are 6 colors available, from dark to bright for you to select. With both quality and reasonable price, this portable dance floor is definitely worth taking into consideration.
Main Features:
Easy and fast installation
Lightweight and portable design
Durable, strong, and supportive material
Suitable for both indoor and outdoor use
Ideal for different dancing practice types
5.4. Authentic Multi-Use Portable Dance Floor
By: dot2dance
By the look, you can already tell that this dance floor is so easy to bring along with you to places. The great part about it is that it is lightweight, so portability is so convenient and simple. There is even a built-in handle that users can easily carry as well which is a total plus. It comes with a unique design that provides just the perfect space for ballet practice. The awesome thing about this option is that it is not only portable but also convenient to use. Its surface is soft and supportive yet strong and sturdy enough to maintain the balance of the dancer.
Besides ballet dancing and practice, this portable dance floor is also ideal for many other activities. Those include contortionists, figure skaters, gymnasts, dancing like Irish dance, tap dance, yoga practices, and many more. I also like the fact that this portable dance floor is easy to maintain since you can hand wash it. There are 3 size options available, making it great for users of all ages and skills. It could be a little pricey, but this portable dance floor provides amazing performance and quality that last for years. Almost all users leave 5-star reviews, and that is why you may find it right as well.
Main Features:
Durable and easy maintenance
Lightweight and portable design
Tapered edges for protection and support
Ideal for many dance practice and other activities
Suitable for all users in both indoor and outdoor use
5.5. Portable Modular Dance Floor
By: Big Floors
The modular dance floor has to be on the list when it comes to the best portable dance floors. The design of this type of dance floor provides ease in both installation and portability, making things convenient for all users. And this modular dance floor right here is the perfect example to prove the fact. It comes with the lightweight and portable design that allows you to assemble and disassemble within minutes. The installation process does not require any tools at all since the panels simply snap into place. And of course, they do not come off unless you remove them which is safe and secure to use.
Along with that, the quality of this portable dance floor is also second to none. It is durable and 100% waterproof, making it the perfect choice to choose for both indoor and outdoor practice. What's more? It is very supportive thanks to its ability to withstand tough practice from various dancing types. There are 9 interlocking panels and edging in the set, and it is so easy to set up. You will also get to choose among a few color and size options as well, and the choice is all yours. Since it is one of the best portable dance floors in the market, this portable modular dance floor will not let you down.
Main Features:
Fast and secure installation
Durable and waterproof materials
Easy to assemble and disassemble
Lightweight, portable, and supportive
Ideal for both indoor and outdoor practice
Final Words
Well, this is a long segment about dance floors since there are many relatable things to discuss. I sure hope that what I included and mentioned above are helpful and useful for you. In case you have more questions regarding how to make a dance floor, feel free to shoot them anytime. Also, the portable dance floor options that I recommended are more for dancing practice. It is not common to find a portable dance floor for parties since people tend to build or rent them. Don't forget to share this article with your friends and family if you find it useful. Cheers.